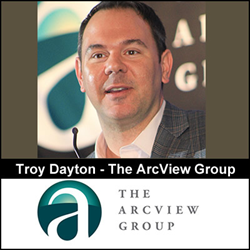 The Arcview Group, an Oakland, CA-based cannabis industry investor network, connecting accredited investors with cannabis related businesses seeking capital, publishing research and producing premier cannabis industry events, completed a $7.7M Series A financing.
The round was led by Trivergance Investments in partnership with Cresco Capital Partners. As part of this transaction, Jerry Stone, Jonathan Washburn, Ampology co-CEO and Codie Sanchez, Cresco Capital Managing Director will join existing board members Troy Dayton and Gregg Steinberg on the Arcview board.
Investors from the Arcview investor community participated in this and a previous round of funding. This group includes former AB Inbev CMO, Chris Burggraeve, Treehouse Ventures' Lindy Snider, Mazakali's Sumit Mehta, Berkeley Patients Group's Tim Schick and Etienne Fontan, Dixie Brands' Tripp Keber, cannabis investment luminary David Wenger, renowned entrepreneur mentor Francis Priznar and former Congressman Ed Feighan.
The funding accelerates the company's capabilities to fulfill various business functions.
Founded in 2010 by Steve DeAngelo and Troy Dayton, Arcview is a a large group of investors in the cannabis sector, having helped more than 1500 accredited investor members place more than $260M into over 200 companies including Ebbu, Tokyo Smoke, MJ Freeway, 4Front, Harborside, Eaze, Meadow, MJardin, Green Flower Media, Growcentia, Wurk, Spring Big, and Phylos Biosciences.
Since 2011, Arcview Market Research has published over 20 reports analyzing and forecasting the cannabis space.
In 2015, the company helped launch CanopyBoulder, the first seed-stage mentor-driven business accelerator.
In 2017, Arcview partnered with BDS Analytics to add point-of-sale data and consumer insights to its offerings.
FinSMEs
16/07/2019