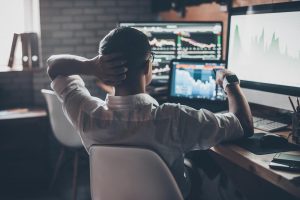 Whether you are aiming to enter the stock market, or you have recently been hit by a loss during share trading, here are 7 rules that you should keep in mind before you start investing in stocks:
1. Do your research thoroughly
This is the primary, preparatory step. Before investing any money, you should have an acute knowledge about what stocks are- and more importantly- what the company whose stocks you want to buy is all about. You should also have an idea about what the best time is to invest in the stock market.
2. Follow the ups and downs of the market
Probably the most proverbial thing about the stock market is its fickle nature. The stock market keeps on going up and down with time, so you should trace the trends before investing your money. Buying stocks in a company when the market is down is not a good idea- it can result in losses.
3. When the stock market goes down, sell your stocks
A time will come when it will be the most profitable for you to sell off your stocks. Do not cling on to your stocks when the market keeps going down. You should always sell off your stocks when the market crashes to avoid losing even more money.
4. Hold on to your stocks when the market rises
Similarly, there will be a time when the stock prices are soaring. In this case, do not sell off your stocks. Selling of the stocks as soon as the price rises is a bad idea. Instead, you should wait till the price hike is complete, and then contemplate selling off your stocks for maximum profit.
5. Maintain common sense
It is important to understand that the stock market is not a magical moneymaking machine. Profits take time to come, so do not assume that money will start pouring in as soon as you lay your hands on the stocks. Common sense is your friend when you're investing in the stock market, so always weigh out the pros and cons of a decision before taking it.
6. Invest in multiple companies
Do not invest all your capital in the stocks of one company. It is always a good idea to buy small amounts of stocks in multiple companies. For example, you can buy stocks in the transportation industry, in the commodities industry, in a company in Japan, in another company in the US, and so on.
7. Keep your spirits up!
It is easy to feel disheartened when the market goes down. But you need to be optimistic and practical. Since the market can change daily, you should be prepared for change at all times. Just like GMAT preparation, have a backup plan ready in case the market crashes, and never let go of your hopes!
Conclusion
It is common knowledge that most first time investors lose some amount of money when they first invest in the stock market. There is a learning curve attached to the job, but it is fairly easy to succeed once you follow the basic rules of the game.