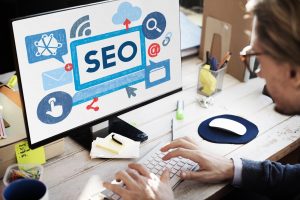 If you are starting a new marketing campaign on Google, then you have two ways to go.
Either the Pay-per-click (PPC) marketing strategy or local SEO. In order to be able to choose the best way that fits your business, you should first understand the difference between them and how they work. There are a lot of aspects that can determine that. Such as the budget, the market competition, and where you stand in the market. Identifying these aspects will let you know what way suits your law firm.
Pay-per-click marketing
PPC advertising could be beneficial for attracting clients to your law firm. If you have chosen the PPC approach, you'd be finding a very wide variety of campaign types, platforms, and advertising techniques. You'd also be able to design your own user acquisition funnel. And you'll have the privilege of retargeting the users who have fallen off your pre-drawn funnel. As for a law firm, the display ads might play a significant role in showing your target audience while they're using some different websites. And the search ads would give you the edge over all the other competitors while your target audience is looking for the service that you provide.
When you use PPC marketing for your law firm, you will only be paying when someone clicks on your Ad and visit your website. There is no set price for the PPC campaigns; the amount you pay per click depends on the competition around you. It might be less expensive but not as effective as local SEO. When PPC is done right, you will be targeting all your potential customers and redirecting them to your website. However, you might find that most of the interested people who visit your site are not from the same region as you; therefore, they will not contact your law firm.
Local SEO For Law firms
Local SEO can get you the right audience for your website and turn your prospects into clients. It's all about getting your website rank higher, not only in search engines but also on google maps. It works better than other methods because with local SEO most of your website visitors will be from your region and will likely want your services. To be able to get the best results through local SEO you have to verify your business, add the right legal keywords, add reviews, and consistency.
Verifying your business
This will show potential clients that your site is verified by Google, which gives more credibility. If you don't know how to verify it, you can hire a law firm SEO expert to help in verifying your website. This step can have a huge positive impact on your ranking and help your site be viewed on the top results of the maps for local clients.
Adding the right legal keywords
This means that the keywords you add on your websites should not be complicated for your clients. It should be understandable and similar to what your clients would use to search for your services. When a local customer searches with a keyword that you used in your site, your ranking will get higher.
Add reviews from previous clients on your website
Positives reviews on your website let potential clients believe that you are exactly what they were searching for.
Consistency in local SEO is a must
You need to be tracking your website all the time in order to guarantee that your campaign is working correctly. When you're using local SEO, you can't set the keywords and the targeted audience and leave it. You will need to check on the performance and make sure that your ranking is getting higher.
When these steps are done, potential clients who visit your website will not hesitate to contact you. If you will not be able to do all these steps regularly, then hiring an expert can be your best option. A law firm marketing expert will be able to help you reach a higher ranking, monitor your site all the time, and will be able to add the right keywords.