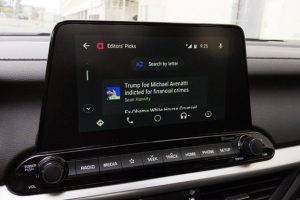 Audioburst, a Palo Alto, CA-based provider of a voice search platform, raised US$10m in funding.
Dentsu and Hyundai Motor Company are joining other strategic investors including Samsung Ventures, Nippon Broadcasting Inc. and Advanced Media Inc.
These investments bring Audioburst's current funding to $25M.
The company plans to build unique advertising and in-car voice-based experiences with the two brands.
Dentsu will work closely with Audioburst to build a new market for personalized audio as an effective advertising channel for brands in Japan.
For Hyundai, the investment also includes plans to accelerate the development and deployment of the next generation infotainment system with the company's personalized audio search, playlists and Deep Analysis API. This will provide consumers with a screen-free and original-voice experience, and Hyundai with an in-depth understanding of the content being searched for and enjoyed in real-time.
Led by Amir Hirsh, Co-Founder and CEO, Audioburst powers personalized, next-gen listening experiences with audio bursts. Pulling from talk radio and podcasts, the company uses automated speech recognition and natural language processing to listen, distill, contextualize and index a large library of spoken word audio content into short form snippets.
Its API enables companies to leverage audio content as a new layer of user engagement and monetization while consumers enjoy audio content discovery, recommendations, and a deep level of personalization through textual search or voice interaction across all devices.
The experience is already available on several interfaces such as Audioburst Search, Alexa, and Google Home. Additionally, developers can access the Audioburst API to tap into the Audioburst Content Library and introduce a more dynamic and personalized listening experience for users across in-car infotainment systems, voice assistants, IoT gadgets, and smartphones.
The company's solutions are integrated or being built into products from brands including Samsung, LG, Bytedance, Nippon Broadcasting System, Dentsu and Hyundai.
FinSMEs
22/04/2019