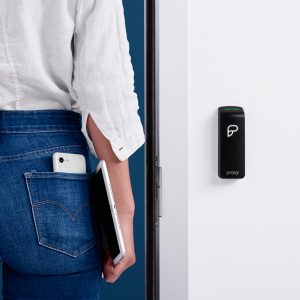 Proxy, a San Francisco, CA-based startup dedicated to empowering people with a universal identity signal, raised $13.6M in Series A funding.
The round, which brings total funding to $16.6M to date, was led by Kleiner Perkins with participation from WeWork, Y Combinator, Coatue Management and industry executives.
Led by CEO and co-founder Denis Mars, Proxy comes out of stealth to launch Proxy Signal™, a smartphone-powered universal identity signal that brings access and personalized experiences into the workplace. The initial product line provides people with mobile access throughout commercial buildings and the workplace — for instance, secured doors, elevators and turnstiles. It is already in use by more than 50 companies – driven by demand for eliminating keycards, badges, visitor passes, ID cards and QR codes.
Customers include WeWork and Dropbox.
Proxy employs its patented tokenized access engine and universal identity protocol built on top of Bluetooth Low Energy (BLE) to enable any smartphone or wearable to passively and securely emit a signal that represents the user. People create their Proxy identity within the Proxy ID™ app and then activate their Proxy Signal. Users own their identity and personal data and have complete control of the devices that can interact with their Proxy Signal. Users must opt-in and explicitly grant permissions to any device, product or organization they connect with, ensuring the user always has full visibility and control over how their signal is being used in real time.
The company is continuously expanding its building and workplace offerings, enabling responsive environments with context-aware capabilities such as automatic visitor check-ins, smart meeting room booking, responsive desks and workstations, and seamless conference activation, while also developing innovative, identity-empowered solutions for other markets.
FinSMEs
28/03/2019