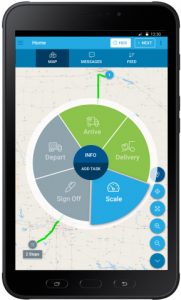 Omnitracs, LLC, a provider of fleet management solutions to transportation and logistics companies, acquired Blue Dot Solutions, a provider of cloud-based workflow software applications and platform solutions for the transportation industry.
The amount of the deal was not disclosed.
Omnitracs will integrate Blue Dot's cloud-native MilesAhead™ platform and product suite into Omnitracs One – the new, unified platform which will offer a solution to improve the productivity, safety, flexibility, and scalability of overall fleet operations through unified workflow experiences that feature modern user interfaces, visual presentation layers, and a high level of workflow configurability.
Led by Ray Greer, CEO, Omnitracs provides software-as-a-service-based trucking solutions for compliance, safety and security, productivity, telematics and tracking, transportation management (TMS), planning and delivery, data and analytics, and professional services. Its more than 1,000 employees serve over 14,000 customers which manage nearly 1,100,000 assets in more than 70 countries.
Established in 1988 and led Michael Sklansky, CEO, Blue Dot Solutions provides unified driver and back-office workflow solutions for the trucking and transportation industry. The company's MilesAhead product enables drivers, driver-managers, and other back-office personnel, to simplify their daily jobs and improve operational processes, leading to increased corporate financial performance and improved driver retention, recruitment, training, safety, and job satisfaction.
FinSMEs
25/03/2019