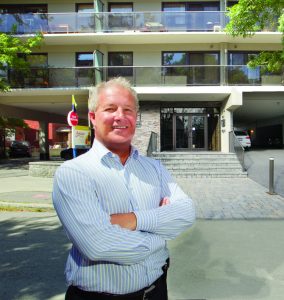 It's not just the ability to recognize the potential of real estate assets that has made Mike McGahan a notable real estate executive – it's his track record at seeing that potential through that has burnished his brand.
Mike McGahan is the Chief Executive Officer and Trustee of InterRent REIT, a real estate investment trust with interests in multi-residential properties in core markets throughout Ontario and Quebec. He is also the President & CEO of CLV Group, which was the REIT's external property manager until it was brought in-house in February 2018.
Thanks for speaking with us, Mike. Can you tell us a little about how you've come to wear these dual hats at InterRent REIT and CLV Group?
Mike McGahan: The relationship started when CLV Group initially sold properties to InterRent, at which time they asked CLV Group to manage those properties, which became InterRent's highest performing assets. In 2009, when InterRent was looking for help in restructuring, due to our track record, they asked CLV Group and myself to help as direct investors and ultimately the restructuring of the organization and repositioning of their assets.
What is the significance of the "internalization" of the CLV Group property management team into InterRent REIT, which was announced early in 2018?
Mike McGahan: InterRent REIT recognized CLV Group's value from the start. It was chosen as the REIT's external property management firm in 2009 because of its track record and reputation for being one of the best operators in the business. With CLV Group market expertise and knowledge, it helped the REIT double their suites to over 8,600 and increase its property value in excess of $2.1 billion, which has been industry-leading growth by most measures. Now that InteRent is at a size that it can sustain a management team, the internalization of management that took place in 2018 will allow InterRent to have this expertise and horsepower internally to continue to drive growth and increase market share efficiently.
Do you have any development projects in the pipeline?
Mike McGahan: We're very excited about 900 Albert Street, a project bringing InterRent REIT, Trinity Developments and PBC Real Estate Advisors together. Late in 2018 we received conditional municipal approval that allows for a large scale transit oriented mixed use development. It's an ambitious project, combining residential units with retail and office and covers all the essentials, right at a major LRT stop at Bayview Station, which intersects with the Trillium Line. These sort of developments are becoming more interesting to InterRent as a source of the REIT's growth strategy.
What makes the project notable?
Mike McGahan: Well, it's hard to overlook that factor, but we believe it meets a real need for Ottawa as the city is growing very quickly. The property's location at 900 Albert St. near the Bayview O-Train station combined with having the ability to build up to 1,200 residential units will help the city meet its goals for increased transit ridership. It will also improve what's currently a city brownfield site, as we will be decontaminating the soil as we excavate for development. We will also contribute toward affordable housing and we believe that height & density belongs at mass transit hubs much like this one, which will go a long way to improving much needed rental supply to the market as well as reducing traffic, increasing LRT ridership and overall quality of life.