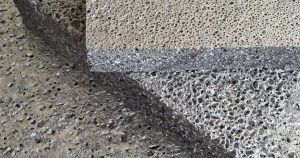 Cymat Technologies' state-of-the-art Stabilized Aluminum Foam panels are shifting the paradigm for architectural design with a range of global construction projects and a continually growing distribution channel.
Most recently, ArchDaily awarded one of those projects, the Caixa Forum Sevilla in Spain, as its 2018 Building of the Year. ArchDaily is one of the most widely-read web-based architecture publications, visited by roughly 13.6 million visitors per month.
Since its January 2018 inclusion on the site, the AlusionTM division has leveraged over 7,000 contacts with the international architectural community and has seen a 600% increase in cladding project solicitations. Now averaging over 25+ page hits per day, AlusionTM has exceeded ArchDaily's benchmark by 218%, adding significantly to the division's revenue and growth.
The end result of construction panel manufacturing can be viewed in homes, buildings and structures anywhere – just look around. However, the quality and beauty of a distinctive architectural design really lies within the materials used.
Headquartered in Ontario, Canada, Cymat Technologies is an innovative materials technology company that is the exclusive worldwide manufacturer of Alusion™ Stabilized Aluminum Foam (SAF).
Bringing its unique Stabilized Aluminium Foam panels to architects and designers across the globe, Alusion™ offers a panel solution with unmatched range of density, thickness, dimensions, production capacity and consistency.
In addition, Alusion™ panels are visually striking with a modern look. Similar in appearance to a metallic sponge, the panels are used for facades, wall cladding, ceiling tiles or dropped ceilings, restaurants, bars, offices, apartment buildings, Terrazzo flooring, and much more.
The distinctive appearance and properties of AlusionTM materials has made it a preferred choice for signature projects by leading architects and designers around the world.
Over the last several years, Cymat Technologies' Alusion™ division has been the company's dominant source of revenue and growth, providing materials to world-class projects that include internationally prominent buildings, such as the Prada Museum (Italy), the 911 Memorial Library (USA), the Ertskade condo building (Netherlands), the Vancouver Convention Centre (Canada) and the Princeton Performing Arts Center (USA).
Most recently, Cymat Technologies' unique pink Alusion™ panels were installed in the "Dive-In" sculpture at Desert X Art Exhibit, bringing an unexpected pop of color and hundreds of admirers to the Palm Desert area. The biennial pop-up art exhibit features 19 installations and performances throughout the desert from artists around the world.
Announcing its next large-scale venture, Cymat Technologies will partner with Alucoil SA, a large Spanish panel manufacturer to produce a new, superior panel that will further service a significant portion of the multi-billion dollar panel industry.
The new Alucoil/Cymat panel is expected to be a premium product that will provide outstanding strength and a high fire rating relevant to the construction, marine, rail, airplane and elevator industries.
Alucoil has already invested substantial financial resources in its joint venture with Cymat Technologies and plans are in the works to build a 500,000 square meter capacity production facility in Spain with initial foam panel production to be completed at Cymat Technologies' Canadian plant.
The company is looking to complete final testing and move toward commercial production, which is anticipated on or before the second quarter of this year.