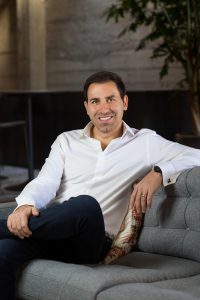 Menlo Ventures, a Menlo Park, Calif.-based venture capital firm, hired Qualcomm's Houman Haghighi as Business Development Partner.
As Business Development Partner and member of Menlo's Fuel team, Haghighi's priority is to accelerate growth for the firm's portfolio companies. He will work closely with the management teams of portfolio companies to identify mutually beneficial customer engagements, strategic partnerships, and to help catalyze additional rounds of financing.
Haghighi brings his extensive network and experience in accelerating companies' growth from his time at Qualcomm Ventures.
The Fuel team is comprised of functional experts across the categories of Talent, Marketing, Business Development, and Network Development. They implement venture services where entrepreneurs need it most:
– building world-class management teams,
– catalyzing go-to-market strategies, and
– creating impactful connections across the Menlo network.
Before joining Menlo Ventures, Haghighi spent fifteen years at Qualcomm where he most recently ran Business Development for the company's Ventures division. In that role, he worked closely with companies such as AttackIQ, Clarifai, Cohesity, Fitbit, Magic Leap, MapR, Ring, RetailNext, Thundersoft, and Zoom. Haghighi was a founding member of and ran the Qualcomm Robotics Accelerator, in partnership with TechStars, where he invested in ten early-stage robotics companies in the nascent days of robotics investment.
While at Qualcomm, Haghighi invested in robotics startups, Reach Robotics, Carbon Robotics, AI platform, Clarifai, and security company, AttackIQ. He serves as an independent board member at Portfolium and is an investor board member at DARPA.
Previously Haghighi co-founded a patient health network, RxMatch.
He is also an inventor and has been granted two U.S. Patents in the field of radio frequency modulation in mobile phones.
Haghighi graduated from the University of California, San Diego with a B.S. in Computational Cognitive Science. He is also a Stanford Certified Project Manager and has completed additional coursework at Harvard Business School's Executive Program.
Menlo Ventures is a venture capital firm supporting such category defining companies as Uber, Betterment, Warby Parker, Roku, and Carbonite. In over 40 years, the firm has ammassed a portfolio that includes more than 70 public companies, over 100 mergers and acquisitions, and $5 billion under management.
It invest at every stage and in every sector, with expertise in B2B, B2C, and Healthcare.
FinSMEs
24/01/2019