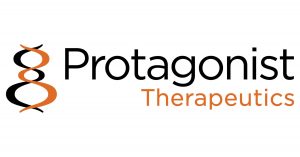 Protagonist Therapeutics, Inc. (Nasdaq:PTGX), a Newark, Calif.-based biopharmaceutical company leveraging its proprietary technology platform to discover and develop novel peptide-based drugs, signed a securities purchase agreement with investors including BVF Partners L.P. and their affiliates for the sale of 2,750,000 shares of common stock for gross proceeds of $22m.
The investors also received five-year warrants to purchase 1,375,000 shares of common stock at $10.00 per share and 1,375,000 shares of common stock at $15.00 per share. The transaction is expected to close on Aug. 8, 2018.
The proceeds from the financing will be used to advance development of drug candidate PTG-100.
Protagonist Therapeutics is a clinical stage biopharmaceutical company that utilizes a proprietary technology platform to discover and develop novel peptide-based drugs. PTG-100 is an oral alpha-4-beta-7 integrin antagonist peptide that is under evaluation for potential treatment of inflammatory bowel diseases. The company's interleukin-23 receptor antagonist peptide, PTG-200, is currently in a Phase 1 clinical trial in healthy volunteers to support a Phase 2 study in Crohn's disease.
The IL-12/23 pathway blockade is an approach that has been validated through an FDA-approved injectable antibody drug.
The company has entered into a worldwide license and collaboration agreement with Janssen Biotech for the clinical development of PTG-200. Protagonist has also applied its innovative peptide platform outside of gastrointestinal disease areas and is developing an injectable hepcidin mimetic, PTG-300, for the potential treatment of anemia and iron overload related to rare blood diseases with an initial focus on beta-thalassemia.
The company has completed a Phase 1 clinical trial with PTG-300, which established pharmacodynamic-based clinical proof-of-concept in normal healthy volunteers. The U.S. Food and Drug Administration has granted Orphan Drug Designation to PTG-300 for beta-thalassemia. Treatment of patients with myelodysplastic syndromes, hereditary hemochromatosis and polycythemia vera represent additional opportunities for future development of PTG-300.
Protagonist has pre-clinical and clinical staff in California and discovery operations in both California and Brisbane, Queensland, Australia.
FinSMEs
07/08/2018