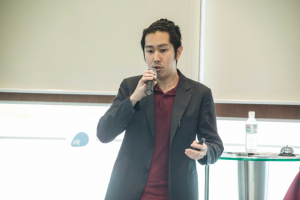 Singapore-based inventory management provider, EMERGE App, has raised $600k in pre-series A funding so far. We recently caught up with founder Benjamin Yee about the company, the software it offers, and its growth and future plans.
FinSMEs: Hi Ben, can you tell us a bit more about yourself?
Ben: Hi and thanks for having me here. I've always been doing things in unconventional ways and one of those things is not working for anyone. When I was young I knew somehow that I would be running businesses one day. In fact, I started a custom t-shirt printing in my later school years. It supplied corporate t-shirts for companies, government agencies and schools. And it still remains profitable today!
I also have a serious case of wanderlust. Thankfully my job steering EMERGE App keeps me travelling three weeks out of a month. I love the digital nomad life and the fact that I can work whenever and wherever with a decent Internet connection. My staff like to play this game where they guess which country that I'm in right now.
FinSMEs: How did you create EMERGE App? What market problem did you want to solve?
Ben: Actually, I didn't start with a dream to write business software — I sort of stumbled upon it. You see, I was managing the stock of my t-shirts with spreadsheets and it worked well up to a point. Then with multiple product variants, orders and shipments, I was getting orders mixed up, customers weren't getting billed, and t-shirts were getting overstocked.
I looked around for inventory management software but the ones that I tried were expensive, complicated or just didn't meet my business requirements. So I decided to write my own software to address my order, purchase and inventory management issues. Then I looked around and saw that traditional businesses like mine were still using pen and paper or spreadsheets to manage their stock. That's when I decided to spin out my software into EMERGE App to help other small and medium-sized businesses.
FinSMEs: What features differentiate you from your competitors?
Ben: Number one, EMERGE App was designed from ground up to be mobile web responsive and intuitive for first-time users. In fact, you can get started with it without reading any manuals or training because it follows the workflow of typical businesses. And we've been getting rave reviews about our good-looking interface and user experience. Believe me, it makes a difference when you're using software 8-12 hours a day and the little things start to grate on your nerves.
Number two, we're a small and nimble company. We're highly receptive to customer feedback and requests. In fact, we build custom requirements at no extra cost except for a paid subscription in return. Also, the app is updated in the background every 3-4 weeks with bug fixes and new features. There's no software to install or updates to be run. Everything is done seamlessly so that you can get on with running your business.
FinSMEs: How about sharing some numbers with us?
Ben: EMERGE App is used by over 1,000 businesses in 55 countries from 5 continents. We would be in Antartica if they had a need to manage their inventory in sub-zero temperature there!
FinSMEs: You have raised $1M so far. How are you using the funds?
Ben: Salaries for global talent accounts for a big chunk of our expenses. We finished 2017 on a strong note with new headcount in China to add to our existing offices in Singapore, Vietnam and India. For 2018 I added staff in South America to focus on the Spanish-speaking market. I'm also aggressively recruiting people in Western Europe and North America to complete my global coverage.
As you know, in the software industry your product is only as good as the people behind it. So I treat my employees like friends and family. Their welfare and morale are very important to me so, aside from the usual business overhead expenses, I plough my earnings back into personal development, salaries and fun!
FinSMEs: What do we hope to see in the coming year?
Ben: We have had a loyal following of customers since day one but you're going to see EMERGE App step up and market itself in a big way from now on. We'll be going all out to spread the message that good business software for your inventory need not be expensive nor complicated.
With English, Chinese, Spanish and Hindi-speaking staff we are covering well over 2.3 billion people that speak those languages. That's a lot of users and businesses around the world. I'm looking forward to continuing our big push in China and to see EMERGE App picked up by Spanish-speaking countries.