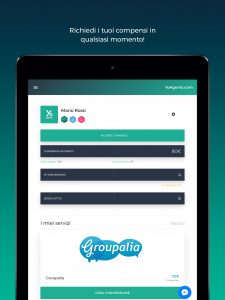 YoAgents, a Milan, Italy-based web and mobile platform to create on-demand and open commercial networks to promote digital services, raised €415k in funding.
Backers included Atandia Moffu Labs, Boost Heroes, 3LB Seed Capital, Lorenzo Dal Verme and Digital Magics (which owns a 63,73% stake in the company).
The company is using the funds to continue to develop the technology and software, and launch the new app (available in the App Store and Play Store).
Led by CEO Pierluigi Casolari, a digital and mobile serial entrepreneur who founded Koinup in 2006 (sold to Exit Reality in 2011) and proximity marketing platform CheckBonus in 2012 (which entered the Mediaset Group in 2016), YoAgents allows sales professionals to connect with startups and micro companies and SMEs. Through the app, theu can choose services, pitch themselves to companies, download sales documents, create deals, with companies in the fitness, ho.re.ca., retail, sectors, as well as visualize and require revenue.
The platform currently hosts over 2,000 sales professionals in its lead generation door to door platform.
The companies partnering with YoAgents, Restopolitan, Groupalia, Fitprime, Experteasy, Foodscovery, among other startups and SMEs, get access to a dashboard to manage their ambassador network, visualize the campaign result in real-time and the value generated by the service.
YoAgents currently has a team of 10.
FinSMEs
14/06/2018