Does your wallet look empty these days? There is definitely something missing, but you don't know what it is. And it's not that there is no cash in it, it's something else. But what is it?
Maybe a piece of plastic (or metal) would make things look better. Yes, you got it. That's it ‒ you need a new credit card.
But there are so many credit cards released every year that you can't keep up with all of them. Maybe you are not even sure what type of credit card would suit you best.
To make a better decision, think about what type of purchases you make most frequently and how you could use the rewards that credit cards offer. Depending on your life habits, you may need a credit card with cash-back rewards or one that gives you travel miles.
While you are contemplating, take a look at our list of recently released credit cards that offer attractive sign-up bonuses. We hope this list will help you decide more easily what is the right card for you.
Chase Ink Business Unlimited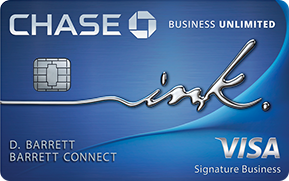 If you spend $3,000 within the first 3 months of opening the account, Chase Ink Business Unlimited card will reward you with $500 bonus cash back. This benefit alone is good enough of a reason to make you want to have this card in your wallet.
This card is targeted at business owners, and it offers 1.5% cash back rewards on every single purchase made for your business. You will be able to redeem for cash back rewards for the entire duration of the account. In addition, you can choose to redeem your points for gift cards at one of various stores, travel or Amazon points.
The Business Unlimited credit card is best when used with other cards that earn Ultimate Rewards points such as the Chase Sapphire Reserve or the Chase Sapphire Preferred cards. When you double it with one of these two cards, you can earn as much as $1,050 for 50,000 points.
The 0% intro APR applies to purchases and balance transfers made within the first twelve months of opening the account. After that, the APR will be 14.74% to 20.74%, variable.
Finally, the annual fee for this credit card is 0%, which makes it even more attractive to all you business owners who are thinking about adding a new card to your wallet.
American Express Cash Magnet
Cash Magnet credit card has a special launch offer available through July 18. This feature gives new cardholders the opportunity to earn up to $300 cash back.
You will earn $150 after you spend a minimum of $1,000 for purchases within the first three months of opening the account. Then, spending an additional $6,500 within the first year will earn you an additional $150 as statement credit.
With the American Express Cash Magnet, you will earn 1.5% cash back on each purchase for the duration of your account. In addition, you will enjoy a number of other benefits like travel and shopping benefits.
This card has a Plan It feature which lets you set up a monthly payment for big purchases with no interest charges and a fixed monthly fee.
The intro APR for this card is 0% for the first 15 months, after which you will need to pay from 14.74% to 25.74% variable APR. It is important to note that the penalty fee that you will have to pay if you make late or returned payments is rather high ‒ 29.99%.
Luckily, American Express Cash Magnet has no annual fee, which can be an important factor in your decision to get this card.
Bank of America Cash Rewards
With this credit card by Bank of America, you can earn $150 online cash rewards bonus once you spend a minimum of $500 on purchases within the first 90 days of opening the account.
With its rewards program, you will be able to get 1% back on each purchase, 2% at wholesale clubs and grocery stores, and 3% on gas for the first $2,500 that you spend each quarter for grocery, wholesale club and gas purchases combined. It is important to note that the card has no changing categories and no expiration on rewards.
Cash Rewards will award you a 10% bonus each time when you redeem your cash back into your Bank of America savings or checking account. Also, you can increase this bonus if you are a Preferred Rewards client.
The introductory APR is 0% and it lasts for 12 billing cycles for all purchases and balance transfers made in the first 60 days. After that, it will be 14.74% – 24.74% variable APR and a 3% fee (minimum $10) which applies to balance transfers. Also, the penalty APR is up to 29.99%.
There is no annual fee for the Bank of America Cash Rewards credit card.
Capital One Venture
Capital One Venture Rewards credit card offers a 50,000 miles sign-up bonus once you have spent $3,000 on transactions within the first three months of the account opening. In case you want to redeem your miles for cash, you will get $500 since the card has a fixed value of 1 cent per mile.
The rewards program is definitely the best feature of the Venture Rewards card. For every dollar you spend on purchases, you earn 2 miles. Plus, thanks to a special partnership with Hotels.com that lasts through January 2020, you can earn 10 miles per dollar spent on hotel purchases that you make on this website using a special link.
The credit card is eligible for all airlines and hotels, and you can use it to travel anywhere and anytime since there are no blackout dates.
Also, this card has no foreign transaction fees, so you don't have to worry about paying any extra money when you are abroad for business or on vacation.
The annual fee for this card is $95, but it is waived during the first year. Its APR is variable, from 14.49% to 24.49%.
Chase United Explorer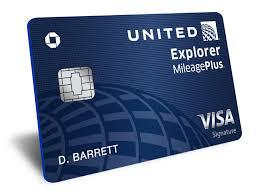 This credit card has a limited time offer which ends on 16 July 2018. You can get 40,000 bonus miles after you spend $2,000 on purchases in the first three months your account is open. Plus, you will get $100 statement credit after you make your first purchase.
Similar to Capital One Venture Rewards card, this credit card was designed for travelers. Therefore, it gives great rewards you can redeem for travel miles. When you use this card at restaurants and hotels, you will earn 2 miles for each dollar that you spend. Also, you will get 25% back on United inflight purchases, as well as up to $100 Global Entry or TSA Pre Fee Credit.
But travel rewards of the Chase United Explorer credit card don't end here. This card allows you to earn 2 miles per each dollar spent on purchases from United Airlines and 1 mile per dollar spent on other purchases. In addition, when you use this card to purchase your ticket, you will be able to check your first bag for free, which will save you up to $100 per roundtrip.
Not enough? How about priority boarding privileges and two United Club one time passes a year? Plus, your miles don't expire as long as your account is active.
The APR for this credit card is 17.49% – 24.49%, variable, and the cash advance APR is 26.49%, variable. The annual fee is $95, but it is waived for the first year.
Bottom Line
These were five recently released credit cards that offer an attractive sign-up bonus. Depending on your needs, you can choose either one of them.
If you are a frequent flier or traveler, you will probably be attracted to Capital One Venture Rewards or Chase United Explorer.
On the other hand, if you prefer to have your rewards as cash back, you may want to consider applying for American Express Cash Magnet or Bank of America Cash Rewards credit cards.
But if you are a small-business owner, you will definitely love the Chase Ink Business Unlimited card, which works best when paired with other Chase cards.
Each of these cards has some features that set it apart from the others. And while it is important to see what features work best for you, you should also check if you qualify for your preferred card, that is, to see if your credit score is good enough and talk about all terms with the card issuer.