Wanting to start trading but don't know where to start? Don't worry we got your back! We have compiled a list of some of the best Android & iOS Forex Trading simulator 2018. Go ahead and take your pick!
#1 For Forex & Stock & Crypto trading – Trading Game
This All In One Trading Simulator teaches you the basics of the trade and is highly suitable for beginners. The trading school within the app gives users a fun and enjoyable learning experience while understanding the complex world of trading. Users will be able to practice trading in popular currencies, stock, commodities and even cryptocurrencies. If you find that you not improving, head on to the quizzes to find out which areas you are weak at. The app has no ads and no signup is required as well. There is also a forex battle which gives users some competition and enjoyment in which they will showcase their trading skills.
Free Trading School
Trading Simulator with the 10 most in demand currencies, stocks and cryptocurrencies, plus the largest indices and six highly traded commodities.
Line & Candlestick chart
Trading History available
Competition with Friends & Users Worldwide (Daily, Weekly & Overall Rankings)
And more!
Download it on iOS here
Download it on Android here
#2 For Social Trading – Etoro
Etoro lets users learn which following others. With just $50, users can start exploring stocks, commodities, indices and currencies. Find and follow the top social investors and learn the tricks of the trade from them. Join in some fun online discussions on the financial markets and gain knowledge from there. Once you have learnt enough to be able to trade on your own, go ahead and get followers of your own and gain extra income!
Invest in Stocks, Comodities, Indices and Currencies
Follow e'Toro's top social investors
Participate in lively online discussions
Build your portfolio by automatically copying top investors trading action
Download it on iOS here
Download it on Android here
#3 For Crypto Trading – Bitcoin Flip Trading Simulator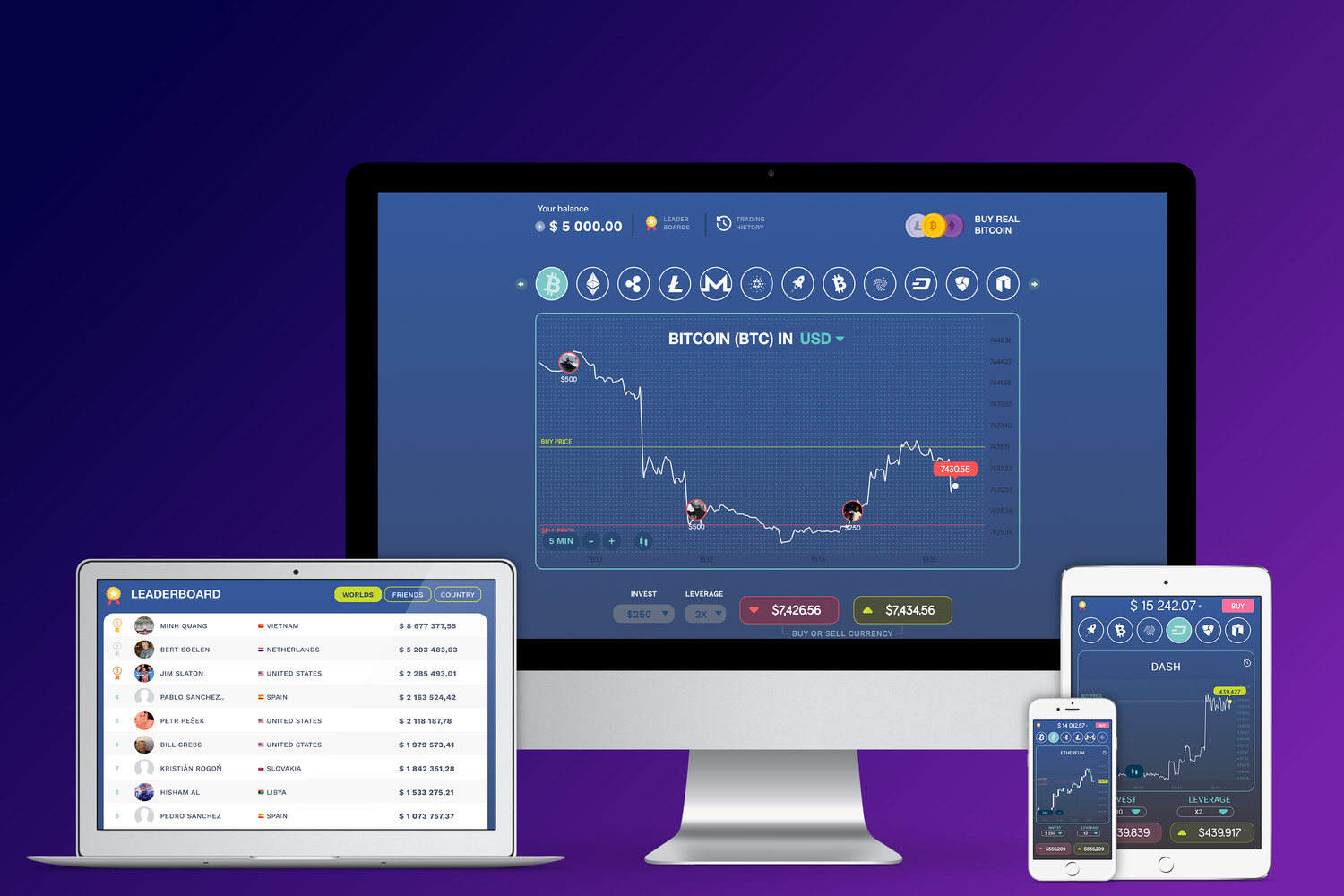 Bitcoin flip – bitcoin trading game gives users an excellent feel of the cryptocurrency market. With real time trading of top cryptocurrencies such as Bitcoin, Ethereum, Litecoin and many more, there is always room to grow your trading skills. Develop your own unique trading strategies on this platform before going into the real markets. Use the $5000 given to you and see how far you can go! Have a little fun by competing with trader globally and try to reach to the top. When you are confident enough to dive into the real markets, choose from one of the trusted brokers in the app to start you adventure.
Bitcoin simulator with real – time pricing
Candlestick and line charts available
Risk – Free Trading Simulator
Available for WEB, iOS and Android
Download it on iOS here
Download it on Android here
Web version here
#4 For Stock Market Trading – Stock Trainer
This app offers real time world stock market trading with no in-app purchases. This app is great for beginners wanting to learn more about stock market trading and to get a feel on how the real market is like. With nothing to lose as everything is in virtual currency, beginners can go rampant however they like without worrying about losses. The app also provides experience traders a place to polish up their skills and to try new strategies.
Real life world market data
No in – app purchases
Plain, simple, free app
#5 For Trading Financial Markets – BUX
Bux is a good platform to practice and improve on your trading skills. With numerous trading instruments to pick, you will be glued to your screen. Level up your trading skills and become the master trader everyone wants to be. Challenge other traders and show them who is boss!
Trade a variety of products
Free practice and affordable trading
Connect and battle with traders
Safe trading
Download it on iOS here
Download it on Android here
There are many ways to learn and enter into the trading world. Select one of the recommended apps and begin your trading journey today!