Data recovery should be one of the most important things nowadays, as data loss is one big headache for many people and one cannot take any guarantee for data recovery without a third-party software's help. Data loss can make an individual or a company to incur various losses or unexpected disaster if there is no backup of files, folders, etc.
There is solution to the problem, that is installing a data recovery software. And Aiseesoft Data Recovery is just what you need. It includes those features which help you find and get back those files which have been lost. Data loss doesn't mean that those files or folders no longer exist but they are divided into somewhere we people cannot accessed directly. These hidden files have to be restored to the accessible location from that hidden location. There are some complications which can only be solved through the recovery software. Aiseesoft Data Recovery software can do it. This is a software which offers powerful features and enables you to get backup the files conveniently.
There are many reasons why many users need to use such kind of software. Every computer user should know about reason which creates problem in data use and data become corrupted. Reasons of data lost are:
Login windows from other user's account
Antivirus software may be the culprit
Operation system installation gets interrupted
Not keep personal files when upgrading operating system
Human error – deleted files by mistake
Computer gets infected by virus
Boot computer from another operating system
Data Recovery is a powerful and safe data recovery software. It can help you recover almost all deleted/lost files like photos, documents, emails, audio, videos and more from computer, hard drive, flash drive, memory card, digital camera, etc. Whether you lose data due to deletion, formatted partition, hard drive problem, RAW hard drive, crashed computer or encounter situation like excel not responding, this file recovery software can always be your best choice.
1. Launch Aiseesoft Data Recovery
Download, install and run this data recovery software on your computer.
2. Select data type(s) and disk drive
Aiseesoft Data Recovery enables you to recover any popular file type like image, document, email, audio, video and more. When you enter the main interface, you should choose the data type(s) you want to recover first. Then choose disk drive(s) where you may find the lost files.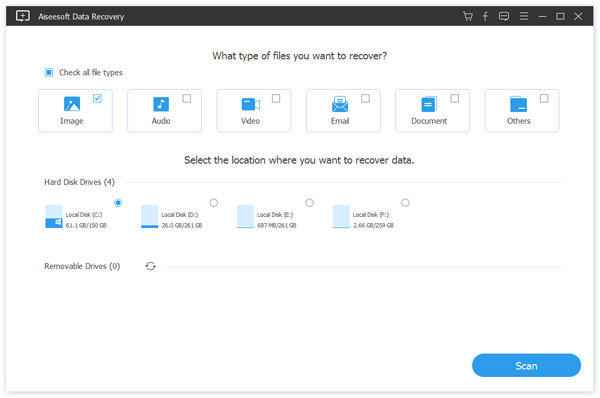 3. Scan data
Two scanning ways are offered, "Quick Scan" and "Deep Scan". Clicking "Scan" button will give you a quick scan on the chose disk drive.
4. Choose data
After scanning, all the deleted or lost files will be listed in the interface. You can use "Filter" feature to quickly locate the files you want to recover.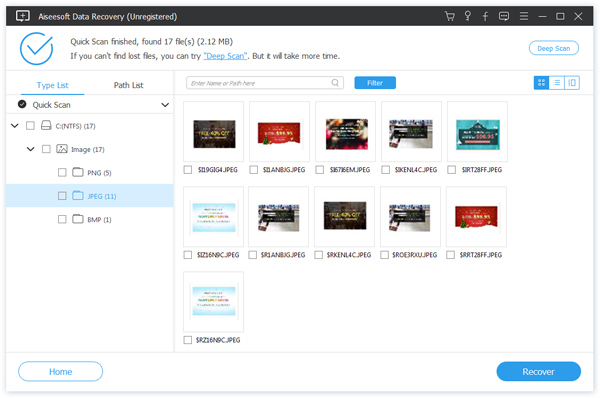 Note: If you can't find your missing data, you can click "Deep Scan" to try again. Deep Scan will take more time to complete the whole scanning process, but it will offer you all possible results which can be restored.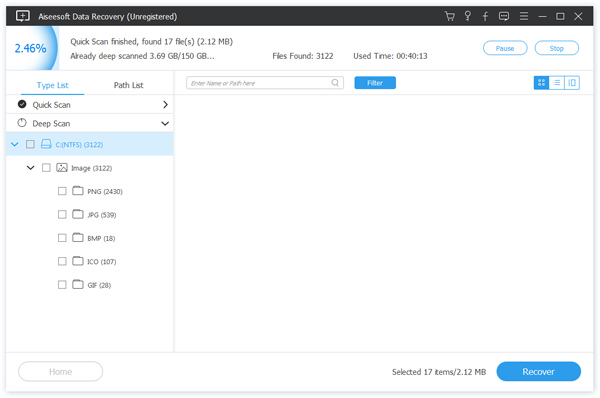 5. Recover data
With just one click on "Recover" button, you can handily get all the selected files back to your computer.
That's it. Data Recovery offered by Aiseesoft can meet your need, which is definitely a trusty solution to data loss. It can help you fix all troubles with simple clicks and get all your lost data back.