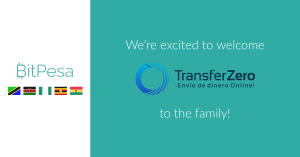 BitPesa, a blockchain payments platform for Africa and Europe, acquired TransferZero, an international, online money transfer platform.
The amount of the deal was not disclosed.
Under the acquisition, TransferZero will continue to operate under the same brand name and all of its employees will stay with BitPesa. The headquarter will remain in Madrid.
Founded in May 2016 by Luis Cambronero, CEO, TransferZero is a fintech platform that allows users to send money online to the rest of the world, under the regulation of the Bank of Spain. The platform enables international remittances and B2B services, autonomously or through the management of a personal advisor, in more than 200 countries and 34 currencies.
The company is a partner of Bankia, Spain's third largest bank and has pioneered a number of innovations in the European FinTech sector. As BitPesa is one of the few global companies to have licensing and infrastructure in both Africa and Europe, the partnership enables TransferZero to expand cross UK and European licensing, bank accounts, and integrations.
Led by Elizabeth Rossiello, founder and CEO, BitPesa is an online payment solution that leverages Blockchain settlement to lower the cost and increase the speed of business payments to and from frontier markets. Clients range from African businesses and multinational companies paying suppliers as far as China and Dubai to international remittance companies using its API services for white-label payments to dozens of bank networks and mobile money operators across Nigeria, Kenya, Uganda, Tanzania, Senegal, and the DRC.
Launched in Nairobi in 2013, the company now has offices in Lagos, London, Luxembourg, and Dakar.
FinSMEs
13/02/2018