Global investment in fintech ventures reached the all-time high in 2017, driven by a surge in funding for startups in the United States, United Kingdom and India.
According to Accenture (NYSE:ACN) analysis of data from CB Insights, a global venture-finance data and analytics firm, fintech financing rose 18% in 2017, to US$27.4 billion, with the value of deals in the U.S. jumping 31%, to $11.3 billion.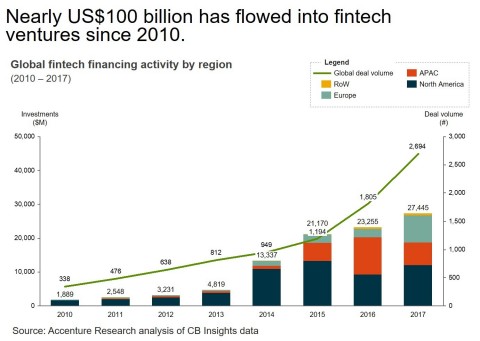 Deal values almost quadrupled in the U.K., to US$3.4 billion, and soared nearly fivefold in India, to US$2.4 billion. The number of fintech deals also rose, from just over 1,800 in 2016 to nearly 2,700 in 2017.
Total global investment in fintech ventures between 2010 and 2017 reached US$97.7 billion, with U.S. startups accounting for more than half (54%) of all investments. The volume of fintech deals globally within that timeframe grew at a compound annual rate of 35%, with total funding growing at a compound annual rate of 47%.
Fintech startups operating in lending and payments took the majoirity of U.S. investments. Kabbage Inc, a U.S. online lender for small businesses, alone raised US$900 million in three separate rounds in 2017. Online lender Social Finance Inc, also known as SoFi, raised US$500 million in February, and LendingPoint raised US$500 million from a credit transaction in September.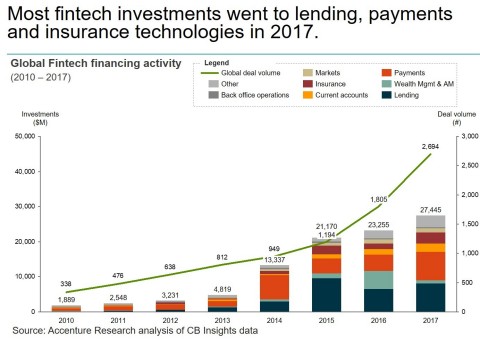 In the U.K., digital insurance distributor BGL Group raised US$900 million, payments venture TransferWise had the second-largest fundraising in the U.K., raising US$280 million.
In India, digital payments startup Paytm received US$1.4 billion in venture capital, driving fintech fundraising activity in the country to nearly five times the 2016 levels. The number of fintech deals in India increased 65% over 2016.
In China, fintech funding declined 72% in 2017, to US$2.8 billion, from a record US$10 billion in 2016, when several companies – including Ant Financial and wealth management platform Lufax – had multi-billion-dollar financing rounds. The average deal size in China in 2017 was US$19 million, down from US$186 million in 2016, though the country still had large transactions, such as the US$440 million that real estate broker Homelink raised in April and the US$290 million that online finance firm Tuandai raised in June.
Global investment in startups developing payments and lending took the majority of funds in 2017, accounting for about 30% each of the total, while those offering insurance-related services garnered 12 percent of funds.
FinSMEs
28/02/2018