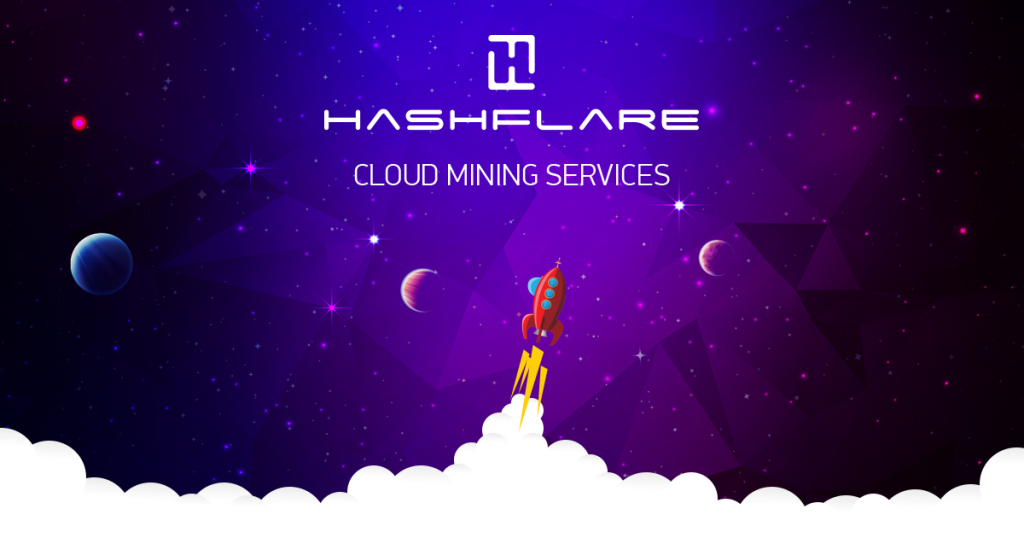 Cryptocurrency cloud mining has become a prevalent tool for receiving additional income since the beginning of 2016.
For many people, this type of getting a profit has even become a primary method of earnings. Plenty of services now provide options for cloud mining. However, only a few of them are reliable, legit, and profitable ones. Hashflare is one of those popular platforms which thousands of miners already trust.

What is Hashflare?
Hashflare is the leading cloud mining platform released created by Hashcoins.com professional in 2014. The company`s headquarters is located in Tallinn (Estonia). The service has all the modern and speedy equipment to help you mining cryptocurrencies effectively. The platform allows mining the following types of digital currencies:
– Litecoin;
– Bitcoin;
– Zcash;
– Ethereum;
– Dash.
Is Hashflare a legit service?
Unfortunately, plenty of cloud mining services presented on the market are considered scams. They just take your money, promise huge incomes, and then suddenly give many reasons for not paying you back. Hashflare.io is an entirely legit cloud mining platform. Numerous autonomous companies and audit firms have recently confirmed this fact. Every month they conduct verification processes not to allow anybody to question the platform`s legitimacy.
What is mining?
Mining is a complicated mathematical process. To get a profit from mining various cryptocurrencies, it is not necessary for you to understand how it works. In simple words, mining farms use high-technological equipment to solve mathematics problems. In exchange, they receive a certain number of bitcoins in exchange. It is a smart way to get digital currency which allows thousands of people to participate in this process.
Key types of mining
There are two principal types of mining:
– Hardware mining;
– Cloud mining.
Each of them has own pros and cons. However, cloud mining is a more reasonable option because you need not purchase any expensive equipment and pay for too large electricity fees. Cloud mining allows you receiving an additional income from the comfort of your home. Thus, Hashflare has become the leading platform for cloud mining.
Hashflare has already developed a ground-breaking system that makes all mining operations according to the type of contract you buy and then pays out you the profit. The algorithm is easy. All your earnings depend on the hash rate according to your contract.
How to start mining with Hashflare?
To start mining with Hashflare.io, you should complete a quick registration. To sign up, you need to specify:
– Current email;
– Country (optional);
– Password;
– Date of birth.
Then, in your account, you should buy a desired hashrate to start cloud mining with Hashflare. How does it work?
– Go to "Buy Hashrate" section;
– Choose one of the available mining contracts:
1) Scrypt for Litecoin;
2) SHA-256 for bitcoin;
3) X11 for Dash;
4) ETHASH for ethereum;
5) EQUIHASH for Zcash.
– Select the amount of hashrate you wish to buy and click "Proceed";
– Redeem Hashflare promo code if you have one;
– Select a payment method;
– Start mining.
Hashflare promo code
Unlike many other mining services, Hashflare offers additional opportunity to save your money while mining. The service has implemented an exclusive promo code. It can be used to get a certain percentage of discounts on purchasing various types of hash rate. All codes are valid and can be used any time you wish. The newest information about all available promo codes is always accessible at hashflarecode.com. Therefore, before buying a hash rate at Hashflare, you would better find out whether any promo codes for this offer are available.
Hashflare maintenance fees
The process of mining always requires using particular energy resources. Therefore, all cloud mining services charge definite maintenance and electricity fees to cover up their costs. The type of selected mining contract and hashrate form usually influences the price.
EQUIHASH, X11, and ETHASH contracts are not subject to any fees;
Scrypt daily fees: $0.005 for 1 MH/s;
SHA-256 daily fees: $0.0035 10 GH/s.
Hashflare payouts
The service guarantees that you can receive daily/weekly/monthly payout whenever you request them. The minimum sums of withdrawal can be found below:
– Scrypt/ SHA-256 contracts –0.0106 bitcoin;
– ETHASH contracts – 0.1006 ethereum;
– X11 contracts – 0.1003 DASH.
Hashflare payment forms
Presently, Hashflare.io supports the following payment forms:
– Visa/MasterCard;
– WebMoney;
– Bitcoin;
– Bank wire transfer (only Euro payments).
Advantages of mining with Hashflare
The main benefits of mining various cryptocurrencies with Hashflare look like the following:
– Reliable platform which is verified by autonomous audits;
– The newest mining equipment;
– Comprehensive interface;
– Professional team of analysts and developers;
– Round-the-clock customer support;
– Fixed fees;
– Real-time monitoring;
– The state-of-the-art clients` security;
– Fast withdrawals;
– Several mining algorithms;
– Low maintenance fee;
– Lucrative affiliate program;
– Convenient contract term;
– The service allows mining the most money-making cryptocurrencies;
– Your income cannot be taxed.
To mine or not to mine?
To mine or not to mine? It is precisely the question that you must solve for yourself. If you want to stay abreast of the newest trends in the world financial market, you will undoubtedly start mining. Presently, mining is not just a trendy thing. It is one of the most stable and verified ways to get profit without going to the office. Hashflare will mine for you and pay you your income, while you are free to spend your free time on other important things in your life.
However, if you think that cryptocurrency cloud mining is just a Ponzi scheme or a soap bubble, you are free to back off from mining. But will you regret your decision when bitcoin will become the most common currency on the planet? All in your hands!