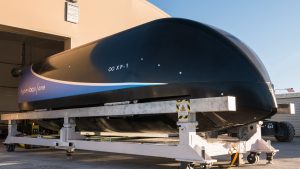 Virgin Hyperloop One, a Los Angeles, CA-based company that has built a full-scale hyperloop system, raised $50m in Series C funding.
Backers included Caspian Venture Capital and DP World. The investment brings the total financing raised by Virgin Hyperloop One to $295m since its founding in 2014.
The company, which has also completed its third phase of testing achieving historic test speeds of 387 kilometers per hour, will use these new funds to pursue opportunities in key markets in the Middle East, Europe, and Russia, focusing in 2018 on accelerating commercial agreements for both passenger and cargo projects.
In addition to the funding, Richard Branson, founder of the Virgin Group, will become the Chairman of Virgin Hyperloop One. Branson joined the Virgin Hyperloop One board of directors in October 2017 after Virgin Group invested in the company and formed a global strategic partnership. The company is in the process of rebranding itself Virgin Hyperloop One.
Led by CEO Rob Lloyd and and Josh Giegel, co-founder and chief technology officer, Virgin Hyperloop One has also set a test speed record of nearly 387 kilometers per hour (240 miles per hour, 107 meters per second) during its third phase of testing at DevLoop, the world's first full-scale hyperloop test site. All components of the system were tested including the airlock, highly efficient electric motor, advanced controls and power electronics, custom magnetic levitation and guidance, pod suspension, and the vacuum.
The tests were conducted in a tube depressurized down to the equivalent air pressure experienced at 200,000 feet above sea level. A Virgin Hyperloop One pod quickly lifts above the track using magnetic levitation and glides at airline speeds for long distances due to ultra-low aerodynamic drag.
FinSMEs
19/12/2017