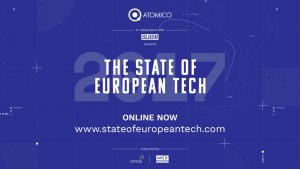 Global venture capital firm Atomico has released the third annual edition of the State of European Tech report, a comprehensive data-driven story of European technology.
The report, which has also surveyed 3,500 people from across Europe, and interviewed some of the European main experts in tech, such as Herman Narula, Ilkka Paananen, Robin Klein, Jimmy Wales, Reshma Sohoni and Jeannette zu Fürstenberg, reveals that the state of European tech in 2017 is the strongest it has ever been.
According to the document, European entrepreneurs are more confident than ever about the ecosystem and its prospects, and geographic diversity is driving meaningful cross-border investment. Anyways, a cautionary note is provided by economic and political uncertainty across the continent.
In addition, Europe's tech landscape is supported by a strong pipeline of talent with countries competing to attract the best people to accelerate their local ecosystems.
Europe's tech communities are flourishing across the continent, becoming more diffuse in more mature markets such as Germany.
In terms of capital flows, it has been a record year of investment in European technology, with total capital invested in 2017 set to exceed 2016's levels.
At a sectorial level, Deep Tech continues to receive high levels of investment, with particular confidence in the continent's ability to produce companies in AI and crypto; Germany and the UK are seen as most likely to lead the way.
FInally, there is a broad consensus that a closer relationship between tech and traditional industries will benefit the ecosystem overall, with trillions of dollars of enterprise capital potentially being part in the game.
FinSMEs
03/12/2017