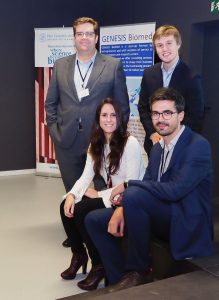 Genesis Biomed, a Barcelona, Spain-based biomedicine and digital health investment firm, has launched a venture capital fund.
Made up of various family offices, Genesis Ventures will fund researchers and entrepreneurs with projects or startups in the early stages and support them in drawing up a business plan to attract private funding later (Series A).
Led by founder and CEO Josep Lluís Falcó, the firm has a focus on areas including therapeutics, diagnostics, medical devices, digital health, etc.
The new fund will initially have €610k available and expects to complete eight operations by October 2019.
Commenting on the launch, Falcó, who has 20 years of experience as a business consultant in this sector and raised more than €40 million over the past 4 years, said: "We're an atypical funding vehicle and the only one of our kind in Spain.
"We'll go out and do the science investors and regulatory agencies want, with the clear goal of developing innovative products. We'll invest in projects that aren't even spin-offs or start-ups yet and guide them through shaping their business plans and finding the private funding they need afterwards. We're in the process of scouting for projects to invest in."
The team also include Jordi Vallès, Project Manager, María Poveda, Consultant, and Carles Taulé, Consultant.
FinSMEs
23/11/2017