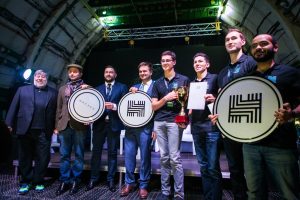 The crowdsale will last for one month or until the hardcap of 20 million HKNs are distributed
Hacken, an ecosystem of white-hat hackers and a bug bounty marketplace with a focus on blockchain security, announces its crowdsale is set to start on October 31. The company has already raised an equivalent of $900,000 during the pre-sale in September. Having distributed 800,000 tokens they're now looking forward to a successful token sale with over 1,000 contributors registered in the Whitelist.
Dmytro Budorin, Hacken Co-Founder and CFO, says: "We designed Hacken to motivate hackers to make legitimate profits by being involved in white-hat penetration testing and research. Today the supply of сybersecurity services fails to meet the demand and we're happy to see great public support for our efforts to create a unique blockchain-based cybersecurity hub".
The alpha version of HackenProof, the bug bounty marketplace and the first component of Hacken Ecosystem, will be released during the first week of the token sale. While it has already been successfully tested with several e-commerce businesses during the HackIT cup finals, a team of developers headed by Andrii Matyukhin, Hacken CTO, are polishing the platform to have it completely ready by mid-December.
In addition to working on the product in preparation for the token sale, the Hacken team has established several strategic partnerships. Among them are:
– TaaS Fund, the first-ever tokenized closed-end fund dedicated to crypto-assets designed to reduce the risks and technical barriers of investing in the blockchain space. The cooperation includes advisory support and provides traction for Hacken in the expert community. This is extremely valuable, considering Hacken's primary focus on blockchain security.
– Confideal, a visual smart contract builder that makes creating, managing and enforcing smart contracts easier than ever. The cooperation will provide discounted services of penetration testing and vulnerabilities analysis to Confideal and their clients, as well as broader opportunities on using smart contracts for Hacken and their clients.
– Neuromation, a technology platform that creates synthetic learning environments for deep learning of neural networks. Neuromation is building a platform of distributed computing for creating artificial worlds where AI algorithms are trained on simulated sensory input.
– SmartOne, a marketplace for legal advice, automated document preparation and individual legal consulting. SmartOne partnered with Hacken for security auditing to ensure its legal services marketplace and its clients are protected using the best security standards in the industry.
The initial price for 1 HKN is $1 in fiat equivalent. The minimum amount to be purchased is an equivalent of 1 ETH. The currencies to be accepted are BTC, ETH, DASH, LTC, USD, EUR, TaaS. 80% of the funds raised are kept in an escrow account. To manage volatility risks and increase HKN liquidity in the future, Hacken will apply its unique innovation dubbed 'the burning principle': once the platform is launched, Hacken will charge on average a 30% fee for each transaction and then eliminate half of it from the system. Thus, the amount of Hackens available will be constantly reducing, thereby bringing greater value for community members. The initial total amount of HKNs is limited to 20 mln with no future emissions currently planned.
Visit hacken.io to buy HKN and to contribute to Hacken token sale by subscribing to our email newsletter. Follow us on Twitter or ask your questions on Telegram or on our Facebook page.
* * *
The Hacken Ecosystem is a community-based business organization consisting of the HackenProof bug bounty marketplace, Zero-day Remuneration Platform, Hacken Accelerator and Cybersecurity Analytics Center. The Hacken Ecosystem utilizes its own cryptocurrency HKN — a dedicated cryptocurrency for white hat hackers, to incentivize users to interact with its ecosystem. Hacken's vision is to launch a movement that in several years will become one of the main driving forces deterring and countering international cybercrime.