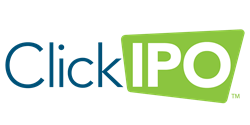 ClickIPO Holdings, LLC, a Scottsdale, Ariz.-based mobile platform designed to give individual investors access to IPOs and Secondary Offerings, raised just over $3M in seed funding.
Backers included:
John Ashcroft,
TAG Capital,
E&I Ventures,
Arizona Technology Investors, and
Desert Angels.
This capital raise will enable the company to expand its technology platform and begin offering access to the platform to a larger group of retail investors.
Led by Scott Coyle, CEO, ClickIPO has launched the first version of its public offering technology through its wholly owned subsidiary ClickIPO Securities, LLC.
The mobile-first platform will allow individual retail investors to participate in IPOs (Initial Public Offerings) and Secondary Offerings using their existing online brokerage account. By not housing investor accounts, it will be able to aggregate investors from multiple online brokerages on a larger scale.
The app (in Beta testing) presently provides information and alerts on new offerings and lets users share those offerings via social media.
FinSMEs
25/10/2017