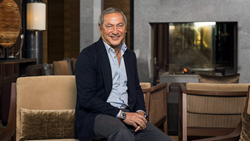 Bidroom.com, an Amsterdam, The Netherlands-based hotel booking startup, secured an investment from Samih Sawiris.
The deal – of undisclosed amount – came after an investment round, which was closed in July, and included funds from a few medium sized hotel chains from the Netherlands and Switzerland.
The company will use the funds for the continued expansion into new and existing markets, and enhancement of customer segmentation and data analytics capabilities, as well as the development of its technology.
Co-founded by Michael Ros, CEO, and Casper Knieriem, Bidroom.com is an online booking platform that does not charge hotels any commission for the bookings they receive through the platform. Instead, they are asked to give their guest a discount off the rates they have on the major OTAs like Booking.com, Expedia, Agoda or Hotels.com. The discounted rates range from 5% even up to 25%.
Since the platform is membership-based, it requires the users to purchase a subscription, before they can see the room offers. The hotels don't have to be concerned with rate parity agreements, as their offers aren't public.
Coming from Egypt, Samih Sawiris is the founder of Orascom Development Group, a conglomerate of companies operating in many different areas, like tourism and hospitality, but with a primary business focus on developing, constructing and managing whole tourist destinations.
Orascom Development Group also owns the RT / Raiffeisen Touristik Group, a group of more than 7,000 travel agencies which are affiliated to RT / Raiffeisen Touristik Group GmbH as their own, franchise or cooperation travel agencies.
The group of companies of RT / Raiffeisen Touristik Group GmbH now employs around 2,000 people and generates revenues of EUR 6.0 billion
FinSMEs
15/09/2017