By leveraging that specific phenomen called "Uberization", which has already brought to us services trying to satisfy the needs generated by large sharing economy-based ecosystems, HyreCar, a US based startup, has launched a marketplace offering flexible car rental options for ride sharing drivers working on platforms such as Uber and Lyft.
Given this simple introduction, we want to try to describe what HyreCar is and how and where it works.
What is it?
HyreCar operates a car rental marketplace for Uber or Lyft ridesharing drivers and car owners to connect and to form mutually beneficial and profitable partnerships with no contracts, no sign up fees and no waiting involved.
The Problem
Both Uber and Lyft, the two largest ridesharing companies in the USA, offer drivers the opportunity to give lifts to people across their cities either full time or in their spare time. In order to do it, they should qualify to join by meeting some Uber and Lyft requirements. These requirements are related to both the driver and the car. On one hand, for drivers, these include the age, experience, and driving record. On the other hand, car requirements are more difficult to meet, especially in the Lyft case.
In a previous article (read it here), we highlighted that nearly 24% of drivers for services such as Uber and Lyft don't have access to qualified vehicles while many personal cars remain in garages.
To help drivers solve the problem, HyreCar operates a website and mobile app to rent cars from owners by the day, week, or month to drive for on-demand service companies such as Uber and Lyft (Postmates and more).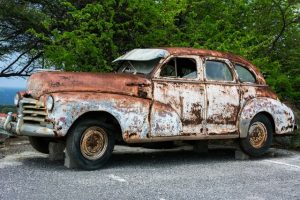 The solution: how does it work for drivers?
1) Drivers who want to use HyreCar can sign up with Facebook, Google, or via email. The service wil then verify a user's ridesharing status and eligibility in order to become an approved driver.
2) In order to find a car, drivers enter their location and desired dates and browse the site for privately-owned vehicles.
3) They can click the "Book Now" button to request the vehicle with owners having 24 hours to confirm or deny a request.
4) Drivers can also skip the wait and book cars instantly for listings that have the "Instant Book" feature.
5) Drivers can arrange pickup time with the car owner.
6) They can download insurance, registration, and vehicle inspection documents, upload those to their ridesharing portal, confirm the damage waiver, and present a license.
7) They can turn their ridesharing app on and start working.
8) When driving has come to an end, Drivers can give the keys back and rate the service in order to build solid relationships in the community.
The solution: how does it work for car owners?
1) Car owners can start getting the vehicle inspected, uploading their registration along with photos.
2) They will be notified when a driver wishes to rent their car.
3) They should respond to the request ASAP in order to get to know the driver who requested the car.
4) They organize when and where to drop off the car.
5) They confirm vehicle condition, note gas and mileage, and click the "confirm pick up" button.
6) The car is protected under a ride-sharing insurance and roadside assistance is available.
7) They organize when and where to drop off the car.
Where is Hyrecar avalable?
The marketplace, which also provides specific support for drivers, owners to report accident or damage and insurance policies, is currently available in 28 states across the US, with new markets opening up each month.  Among others, it operates in large cities such as Atlanta, Chicago, Dallas, Los Angeles, New Jersey, Philadelphia, San Antonio, San Diego, San Francisco, and Washington DC, with more to come soon.
Key People
– Joe Furnari, CEO & CFO
– Abhi Arora, COO, and
– a team of over 10 people in total.
FinSMEs
17/07/2017