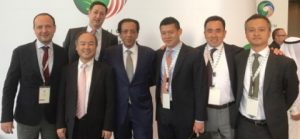 SoftBank Group held the first major close of the The SoftBank Vision Fund with over U.S.$93 billion of committed capital.
Investors, in the fund, which is targeting a total of U.S.$100 billion of committed capital, with a final close within six months, included:
– SoftBank Group Corp. (commitment of U.S. $28 billion),
– the Public Investment Fund of the Kingdom of Saudi Arabia,
– the Mubadala Investment Company of the United Arab Emirates,
– Apple Inc.,
– Foxconn Technology Group,
– Qualcomm Incorporated, and
– Sharp Corporation.
The fund will make investments of U.S. $100m or more in companies and foundational platform businesses that seek to enable the next age of innovation. It will seek to acquire minority and majority interests in both private and public companies, from emerging technology businesses to established, multi-billion dollar companies requiring substantial growth funding.
The fund is expected to be active across a wide range of technology sectors, including but not limited to:
– IoT,
– artificial intelligence,
– robotics,
– mobile applications and computing,
– communications infrastructure and telecoms,
– computational biology and other data-driven business models,
– cloud technologies and software,
– consumer internet businesses and
– financial technology.
The vehicle will have the right to acquire certain investments already acquired (or agreed to be acquired) by the SoftBank Group, including 24.99% of its holding in ARM, and investments in Guardant Health, Intelsat, NVIDIA, OneWeb and SoFi.
The fund will be advised by wholly-owned subsidiaries of SBG, known collectively as SB Investment Advisers.
Rajeev Misra will serve as the CEO and will be a member of the Investment Committee. He will play a key role in all transactions, supported by a global team across offices in London, San Carlos, and Tokyo.
Nizar Al-Bassam and Dalinc Ariburnu of newly formed Centricus, who advised on structuring and fund raising efforts for the Vision Fund, will continue their roles as advisers.
FinSMEs
21/05/2017