According to several reviews, the new Samsung Galaxy S8 is a truly premium phone with such amazing features and a sleek design, a large display, a great camera and huge power. It seems to offer an exceptional experience for any user, actually.
Given all this, when we get a new "digital jewel", he should remember we need to transfer our files from the old device to the new one. We know. It's always the same old story but we need to do it. We cannot risk losing our professional and personal contacts, our conversations with people (SMS), the photos featuring us and our loved ones and the videos we wish to watch time by time, without forgetting our favorite songs that we like to listen to in any moment of the day.
To avoid all this, a new smartphone to phone transfer software can help us, either in the case of transfer from Android to Android or in the case of transfer from iPhone to Android S8.
In particular, Wondershare MobileTrans enables us to transfer data between devices with different operating systems, these being either iOS, Android, Windows Phone or Symbian.
It works for any type of files such as photos, text messages, and others and also enables to restore backup from Blackberry 7/10, iTunes, iCloud, OneDrive, Kies to mobile phone. It is fully compatible with iOS 10.3 and Android 7.0.
Let's have a look at how it works.
In case of Phone to Phone Transfer, you can connect your device to the computer, open MobileTrans, and click on "Phone to Phone Transfer".
Then get both of your devices connected.
The data will be transferred from the source device to the destination one and you can use the "Flip" button to exchange their position. Check the files you would like to transfer. Then click on "Start Transfer" to begin the process and don't disconnect the devices until it is completed.
You can also check the "Clear Data before Copy" box if you want to delete data on the destination phone before copying the new data.
As written above, Wondershare MobileTrans also enables us to restore a device from different backup files by using the feature "Restore from Backups" from iCloud, iTunes, Kies, BlackBerry and OneDrive.
Finally, the product enables us to backup our iOS, Android, Symbian and WinPhone Phone to our computer so that we can restore it when there is a need later. In this case, after running the program on computer, get your device connected to the computer. Then click "Back Up Your Phone" in the primary window and – when the program detects the device – you can see the window below.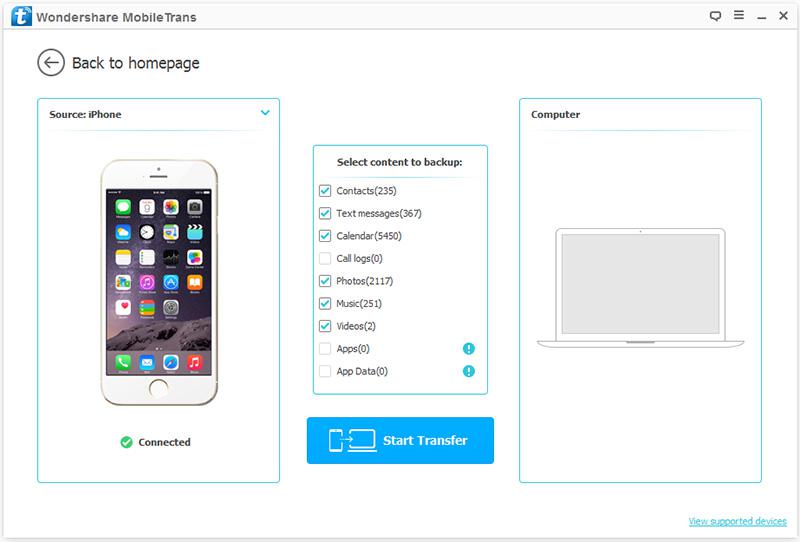 The file types that you can backup to your computer are displayed in the middle of the window. Check the file and then click "Start Transfer". The data backup begins. When the backup process is complete, you can either click on a pop-up window to access it or go to the settings to find the backup file.
FinSMEs
09/05/2017