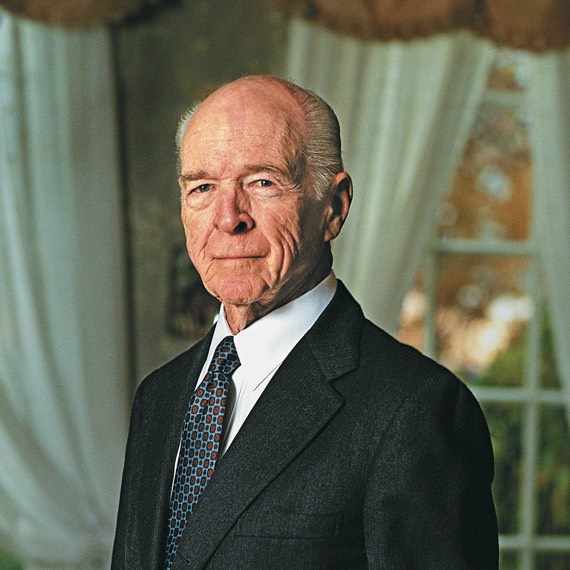 Businessman, investor, civic leader and philanthropist Henry L. Hillman passed away in Pittsburgh on April, 14th, 2017.
He was 98 years old, husband of the late Elsie Hillman, father of Lea Simonds, Audrey Fisher, Henry Hillman, Jr., and Bill Hillman, grandfather of ten, and great-grandfather of sixteen.
Public Statement from the Hillman Family
"Daddy had such a tremendous life filled by a large family he loved dearly, innumerable friends, and great adventures in business and philanthropy. Mother's loss so soon after they celebrated their 70th wedding anniversary in 2015 was difficult, but he did what he always did, he kept going and kept our spirits going, too. We'll miss him so much."
Public Statement from The Hillman Company and Hillman Family Foundations
"Henry created The Hillman Company as we know it today, having reshaped it from its roots in industrial businesses to diversified investing," said Joseph Manzinger, President of The Hillman Company. "Although known in Pittsburgh mainly for his generous philanthropy, Henry was respected around the world as a pioneer in private equity and venture capital. Our heartfelt sympathy goes out to the Hillman family as we think about how difficult Henry's loss must be for them."
The son of Pittsburgh industrialist John Hartwell Hillman, Jr. and Juliet Cummins Lea Hillman, Henry Hillman attended Shady Side Academy and graduated from The Taft School and Princeton University. Following his service in World War II as a U.S. Navy aviator, he returned to Pittsburgh, newly married to his beloved Elsie. Over the course of the next 30 years, he transformed the family business from its roots in coke and chemical production and related industries into a diversified investment company. His venture capital investments in the 1970s and 1980s in companies such as Genentech, Hybritech, and Tandem Computer made him a pioneer in private equity that fueled the growth of Silicon Valley. He served as a director of many companies in Pittsburgh and across the country including General Electric, Cummins Engine, Merck, PNC Financial Services, and Texas Gas Transmission.
Always self-effacing, he had a reputation for avoiding attention. "His aversion to publicity was legendary," said Carl Grefenstette, former President, CEO and Chairman of The Hillman Company. Recalling Mr. Hillman's oft-quoted statement that "the whale gets harpooned only when it spouts," Grefenstette added, "It wasn't that he was secretive; he was just private. He disliked blowing his own horn."
Throughout his life, Mr. Hillman was steadfast in his dedication to the City that meant so much to his family and remained active in directing the work of the charitable foundations he created until the time of his death. He was perhaps best known for the support he provided that created the Hillman Cancer Center at the University of Pittsburgh Cancer Institute. His most recent major gifts focused on advancing medical and technological research at Pittsburgh's leading universities. He served as a trustee and director of numerous nonprofit and civic organizations over his life including the Carnegie Museums of Pittsburgh, Children's Hospital, Action Housing, the Urban Redevelopment Authority, the Allegheny Conference on Community Development, the University of Pittsburgh, and the Carnegie Library of Pittsburgh.
"The hallmark of Henry's philanthropy has been his commitment to making Pittsburgh the best city it can be," said Hillman Family Foundation's President David K. Roger. "Henry had seen the city at its industrial heights, worked tirelessly as a civic leader to stem its decline, and was an integral player in its rebirth and revival. He was genuinely gratified to see the city thriving again. Thanks to his generosity and love of this place and its people, his commitment to Pittsburgh will continue through the work of the foundations he created."
Funeral arrangements will be private. Memorial contributions may be made to the Hillman Cancer Center/University of Pittsburgh Cancer Institute or to the Carnegie Museums of Pittsburgh.
FinSMEs
17/04/2017