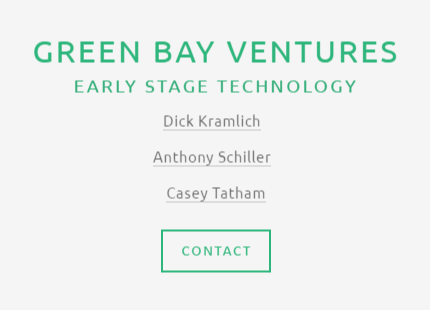 Green Bay Ventures (GBV), a San Francisco, CA-based venture capital firm, has launched and closed its $130m first fund.
The firm, led by C. Richard "Dick" Kramlich, Casey Tatham and Anthony Schiller, aims to invest at the intersection of technology and large markets including manufacturing, energy, transportation, logistics, real estate and telecommunications.
Backed by some of the world's most prominent families, Green Bay Ventures aims to back companies at their early stage of growth providing capital, domain expertise and direct access to target markets.
Dick Kramlich is General Partner and Co-Founder at New Enterprise Associates. Anthony Schiller and Casey Tatham are respectively the Founding Partner & Managing Member and the Managing Partner & Finance & Operations of Green Bay Advisors, the family office platform for Dick Kramlich and includes the management company for both Green Bay Ventures and its predecessor funds Kramlich Investment Company, LLC and KIC Co-Invest, LLC.
FinSMEs
10/02/2017