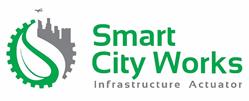 The Center for Innovative Technology (CIT) has partnered with Smart City Works, Inc., to launch a business actuator, a new type of business accelerator focused on growing early stage businesses aimed at advancing smart city solutions.
Smart City Works @ Herndon will be uniquely focused on enhancing the performance, security, and resiliency of cities and their infrastructure. The initiative will serve to catalyze greater economic development and smarter cities in the Commonwealth of Virginia and the broader DC metro area.
Its structure and operations are closely modeled on the CIT's MACH37 cybersecurity focused accelerator, which has launched 40 companies in just over three years.
The actuator will run two cohort sessions a year, and provide intensive training, mentoring and support in interacting with sources of capital and partners who can assist in reaching the target markets. In addition to new startups, the smart city actuator will also engage some more mature early stage technology product companies, and connect them with funders, mentors and corporate partners who can help deliver their products to market.
The inaugural Spring 2017 cohort will be hosted at the CIT complex in Herndon, Virginia. Applicants are now being accepted from entrepreneurs, startups, and companies with emerging product solutions that cover one of three main infrastructure challenges:
– Transportation – Solutions that reduce costs, extend serviceable life, reduce congestion, or leverage intelligent transportation solutions to improve the transportation infrastructure;
– Resilience and Public Safety – Solutions that address the safety and security of the urban public; that mitigate the impact of rising sea levels, extreme weather events, or other natural or man-made calamities; that protect critical infrastructure; or improve livability and sustainability;
– Construction Techniques – Solutions that improve the design, construction, or maintenance of infrastructure; reduce lifecycle costs or improve safety, schedules, or margins.
Interested applicants are encouraged to visit www.f6s.com/smartcityworks for more details and to fill-out the online application.
FinSMEs
19/02/2017