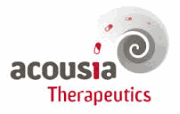 Acousia Therapeutics, a Tübingen, Germany-based biotech company, closed a €2.5m funding round.
The round was led by the Boehringer Ingelheim Venture Fund with support from the KfW as well as the new shareholder Axxam SpA of Milan, Italy. In conjunction with the funding, Dr. Stefan Lohmer, Chairman and Chief Executive Officer of Axxam, will join Acousia Therapeutics' Board of Directors.
The company intends to use the funds to finance research programs for the development of small molecules to treat sensorineural hearing loss and protecting sensory hair cells of the inner ear to prevent hearing loss in at-risk patients. To this end, Axxam will also transfer some therapeutic assets to the R&D programs of Acousia to generate clinical candidates to be developed subsequently to demonstrate clinical proof of concept.
Led by Dr. Michael Bös, Chief Executive Officer, Acousia Therapeutics is dedicated to the identification of small molecules for innovative treatments of hearing loss. The new therapeutic approach will replace lost sensory hair cells, the key cells for hearing in the inner ear, by cellular regeneration originating from supporting cells.
The company will develop drugs for local application, which will restore hearing in patients who have lost their hearing ability due to various reasons, e.g. noise trauma, treatment with ototoxic drugs or sudden deafness. In addition, this therapy will have the potential to treat the age-related decrease in hearing capacity.
FinSMEs
16/12/2016