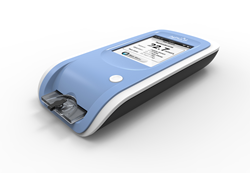 AgPlus Diagnostics, a Colworth Science Park, Sharnbrook, Bedfordshire, UK-based developer of a handheld electrochemical reader to deliver rapid diagnostics, raised funding from Rainbow Seed Fund.
The amount of the deal was not disclosed. In conjunction with the funding, Dr Andrew Muir, Investment Director for the Rainbow Seed Fund, has joined the board of the company.
Led by Keith Page, CEO, AgPlus Diagnostic provides platform technology having the potential to make rapid and accurate diagnostic testing – without the need for laboratory facilities – in the areas of human and animal health, sports medicine and environmental testing.
The platform, developed by scientists at the UK's National Physical Laboratory (NPL), utilizes electrochemical immunoassay technology in a patented microfluidic cartridge format. The electrochemical signalling and measurement system allows sensitive, accurate and quantifiable results to be obtained from a very small sample volume (50µl) in under 10 minutes.
On 21st September 2016, the company announced a contract with global biopharmaceuticals leader AstraZeneca to develop a point-of-care (PoC) test. The agreement covers AgPlus Diagnostics development of a diagnostic assay for potential use as part of a personalised approach to treating respiratory disease.
If successful, it is expected that AgPlus' prototype device will be developed into a commercial product to accompany AstraZeneca's respiratory product portfolio, which aims to match patients with the right treatment using their individual biomarker profiles.
FinSMEs
28/09/2016