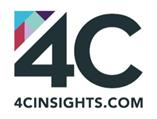 4C Insights, Inc., a Chicago, IL-based data science and media technology company, completed a $26m Series C financing.
The round was led by Kayne Partners, the growth private equity group of Kayne Anderson Capital Advisors, L.P., with participation from previous investors Jump Capital and Prime Ventures. In conjunction with the funding, Leon Chen, Vice President, Kayne Partners, will join the 4C board of directors.
The company, which had previously raised $11.6m over the past three years, plans to use the funds to deepen its market presence through geographic and product expansion, increase applications of affinity-based targeting across TV, video and social media using its data science and multi-screen software-as-a-service (SaaS) offering, and add technical talent and sales resources.
Founded in 2011 by CSO Dr. Alok Choudhary, and led by Lance Neuhauser, CEO, Anupam Gupta, CPO, and Kevin Kearns, CRO, 4C provides an integrated platform for multi-screen analytics and activation for brands to reach their most valuable audiences.
The 4C product suite includes activation on Facebook, Instagram, LinkedIn, Pinterest, Snapchat and Twitter as well as TV synced ads across digital display, mobile, search, social and video. The company also provides advertising and content analytics leveraging its Teletrax global TV monitoring network and proprietary social affinity database.
The company, which has staff in 17 worldwide locations across the United States, United Kingdom, France, Hong Kong, India, the Netherlands and Singapore, recently announced that it has been named a Snapchat partner, which will give brands the ability to leverage 4C technology to access the 100+ million daily active users on the platform. It has also launched 4C University, providing training in its product suite and delivering institutional knowledge across TV and social media. In May 2016, 4C announced a series of partnerships including Turner to target TV audiences utilizing social data, 20th Television to quantify the effectiveness of brand integrations, Groupe M6 to monitor broadcast assets, and Wide Orbit to activate social data through programmatic TV.
FinSMEs
20/09/2016