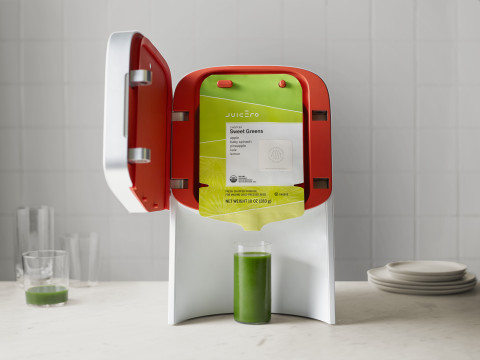 Juicero, a San Francisco, CA-based health and wellness company with a mission to make it easier to consume more servings of fresh, organic fruits and vegetables, has launched with $70m in Series B funding.
The company has raised over $100M to date with backers including Artis Ventures, Kleiner Perkins Caufield & Byers, GV (formerly Google Ventures), Thrive Capital, Campbell Soup Company, Two Sigma Ventures, DBL Partners, First Beverage Group, Acre Venture Partners, and others.
Led by Doug Evans, founder and CEO, Juicero has developed a WiFi-enabled, countertop cold-press juicing system, uniting technology, agriculture and design to make raw, organic and home juicing without making efforts.
The company's packs contain 100% raw, organic produce fresh fruits and vegetables from organic farms that is triple washed, chopped, mixed, packed and delivered to home ready for juicing. At launch, packs will be offered in five flavors: Greens, Sweet Greens, Spicy Greens, Carrot Beet, and Sweet Roots.
Juicero also provides a mobile app – compatible with iOS and Android devices – for first-time setup of the Juicero Press, see origins, nutritional benefits, and freshness of produce, track current pack inventory, schedule, modify or cancel upcoming deliveries.
Available first in California, the Juicero Press retails for $699 while Juicero Packs cost $4-$10 each, based on the flavor. The presses will begin shipping Summer 2016.
FinSMEs
01/04/2016