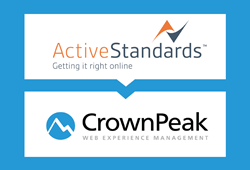 CrownPeak, a Los Angeles, CA-based Digital Experience Management (DXM) platform provider, merged with ActiveStandards, a UK-based provider of an enterprise Digital Quality Management (DQM) platform.
In connection with the merger, the company has confirmed a $50m investment by K1 Investment Management, LLC to support the re-launch as well as future product enhancements.
With the announcement, which will carry the CrownPeak name, CrownPeak COO, Jim Yares, has been appointed CEO. ActiveStandards' CEO, Simon Lande, and CrownPeak's CEO, Jim Howard, will remain as advisors to the combined company.
The company will be based in Los Angeles and London.
Prior to the merger, CrownPeak and ActiveStandards maintained an integrated offering with several joint clients including large insurance, financial services and pharmaceutical companies. The ActiveStandards platform, which is used by an international client base including Unilever, Shell, CSC, HP, Thomson Reuters and Canon, will take on the "CrownPeak Digital Quality Management" name and remain available as a standalone solution.
The company will continue to build on its suite of integrations with other Content Management Systems and Marketing Technology providers.
Available integrated capabilities include a native, cloud shared-service platform to standardize development of websites and Digital Experience Layers across large enterprises, the ability to enforce quality and compliance standards across every website, both pre- and post-publication, dashboards providing visibility across every digital touchpoint and and a deployment architecture that enables digital experiences to be deployed as "front end" across multiple legacy applications to create high-quality digital experiences.
FinSMEs
06/04/2016