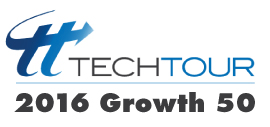 Tech Tour, a platform that allows high-tech companies to develop strategic relations with investors, announced the 2016 Tech Tour Growth 50 (TTG50), which highlights the next generation of Europe's fastest growth tech businesses.
The companies were selected by Tech Tour, along with Silverpeak Investment Bank in conjunction with a selection committee of international investors (many of which are members of the International Venture Club), who have researched and evaluated over 175 European private tech companies at a sub one billion US dollar valuation.
The committee, chaired by Jean-Michel Deligny, Silverpeak, was composed of international venture capital firms, advisers and experts including Bank of America Merrill Lynch, Accel Partners, Highland Capital Partners Europe, Amadeus Capital Partners, DN Capital and The World Economic Forum.
Some key statistics include the fact that 90% of the TTG50 companies were founded in the last 10 years, with median year foundation being 2008.
The average time from company foundation to first funding round has been 1 year and 10 months. 66% of the companies have at least one US investor.
Since 2008, they have raised over $3 Billion and created over 6, 500 jobs.
The companies, coming from Ireland (4), United Kingdom (20), Portugal & Spain (3), France (4), Benelux (4), Germany (9), Italy (2), Russia (1) and Nordics (3), have over 2.5 million followers on Twitter.
The list includes:
– Actility, a smartgrid and Internet of Things (IoT) enabler,
– Calastone, which offers an automated approach to funds processing,
– eToro, a trading social network,
– MedicAnimal, a London-based online pet healthcare retailer, selling pet products including prescription medicines, pet food and accessories,
– Scytl, an election modernization and online voting company,
– Advanced Manufacturing Control Systems, a supplier of integrated software and vehicle technology for the waste, recycling and material resources, industries,
– Catawiki, which operates weekly auctions for unique items,
– Feedzai, a provider of a fraud prevention platform powered by machine learning,
– MetaPack, a provider of delivery management technology to enterprise retailers and retail delivery partners across the world,
– Secret Escapes,  a members only travel club offering members discounts on hand-picked luxury hotels and holidays,
– Alfresco, an open platform for business software,
– Cedexis, which optimizes web performance across data centers, content delivery networks (CDNs) and clouds,
– Fenergo, a provider of client lifecycle management software for banks,
– Mister Spex, an online optician,
– SigFox, which powers IoT applications with communication solutions,
– Algomi, which creates the bond information network that enables all market participants to securely and intelligently leverage data to make financial trading connections,
– Clavis Technology, an online retail store analytics platform,
– ForgeRock, an access and identity management platform,
– Movidius, a provider of visual sensing technology for the Internet of Things,
– Smava, an online lending platform,
– AlienVault, a provider of unified security management & community-powered threat intelligence for the mid-market,
– Currency Cloud, a Cross Border Payments as a Service,
– ImCheck24, an online real estate broker,
– NewVoiceMedia, a cloud contact centre and inside sales platform designed specifically for Salesforce,
– SoundCloud, an audio platform that lets people listen to what they love and share the sounds they create,
– Auctionata, an operator of online auctions, free valuation, buying & selling of fine art, antiques, watches, etc.,
– Darktrace, a provider of an enterprise immune system technology for cyber security,
– Improbable, which is developing an operating environment that creates building simulated worlds,
– NFON, a cloud-based VoIP business telephone system,
– Synthesio, a social intelligence tool for social media monitoring & social analytics,
– B2X Care Solutions, a customer care company,
– DataSift, a human data intelligence platform,
– ivi.ru Media,  an online video streaming service that offers legal, license-length content,
– Nomad Digital, which designs, builds, deploys and manages Passenger WiFi and Wireless Passenger Information systems for trains, metros, trams and buses – globally,
– Tradeshift, a cloud platform that connects buyers, suppliers, and all their processes in one platform,
– Babbel, which provides interactive English online courses,
– Deliveroo, a restarant food delivery service,
– KnCMiner, which specializes in ASIC design as well as in building, equipping and running industrial computing centers on renewable green hydropower adhering to the Bitcoin protocol,
– Octo Telematics, which specializes in the provision of telematics services and systems for the Insurance and Automotive market,
– Translated, which provides professional translation services in over 1600 language combinations,
– BitFury, which is an integrated Bitcoin Blockchain infrastructure provider and transaction processing company,
Elasticsearch, which includes advances in speed, security, scalability, and hardware efficiency,
– Kreditech, which uses big data algorithms and automated processes to assess the credit score of everyone worldwide, also the 4bn unbankend people who do not have a credit score,
– Qubit Digital, a digital customer experience delivery platform designed for marketing and ecommerce professionals,
– WeTransfer, an online file-transferring platform,
– Blockchain, a bitcoin wallet provider,
– E-Leather, which specializes in manufacturing branded products which integrate both natural and engineered fibre technology and suitable for a range of industries including aviation, bus, coach, rail, marine, domestic and contract upholstery,
– Made.com, an ecommerce platform for original furniture design,
– Ratesetter, a peer to peer lending platform, and
– WorldRemit, a remittance platform.
FinSMEs
22/03/2016