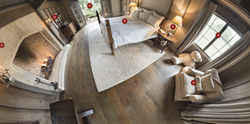 Interactive media platform ThingLink closed $1.3M funding round.
Backers included Run Capital, Inventure Oy, and Steelhead Ventures.
The company intends to use the funds to expand its SaaS offering to virtual reality annotation.
ThingLink is evolving from image and video annotation to 360 content, which gives publishers a larger canvas to create custom experiences. By building on the current product, ThingLink helps reduce the cost of content creation for mobile VR while providing new kind of insights on consumer engagement within a 360 environment.
Led by founder and CEO Ulla Engestrom, ThingLink is an interactive media platform that allows over 2.5 million publishers, educators, and marketers to create engaging content by adding rich media links to photos, videos, 360, and VR.
The company is now planning to launch a beta version of a new VR editor with key partners in the coming weeks. The editor allows users to add contextual layers of information like text, photos, maps, video and other "call to action" tags to 360 images and video, while collecting valuable engagement data.
In a ThingLink virtual story, people navigate by turning their head and aligning a pointer with a detail they want to explore more closely. It tracks these motions and shows creators key performance metrics to measure engagement within the experience.
ThingLink VR does not require a separate application and virtual stories can be viewed over mobile browser with headsets like Google Cardboard, Zeiss VR One, and others.
The company has offices in Palo Alto, New York, Helsinki, and St Petersburg.
FinSMEs
11/02/2016