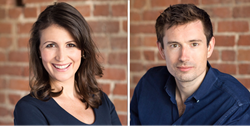 Palo Alto, CA-based early stage venture capital firm SoftTech VC promoted Stephanie Palmeri and Andy McLoughlin, two of its senior investment staff, to Partners.
Stephanie Palmeri joined SoftTech VC in 2011 as Senior Associate after receiving her MBA from Columbia Business School. She was promoted to Principal a year later and has been led the firm's investments in Marketplaces, Consumer Services, Education Technology and Digital Health.
She is also responsible for leading investments on the East Coast.
Over the last five years, Palmeri sponsored 18 investments and sourced several more – including Niche (acquired by Twitter in 2014), ClassDojo and Grovo.
Andy McLoughlin joined SoftTech VC in 2015 as Venture Partner, after co-founding London-based Huddle in 2006. He had moved to San Francisco in 2010 to open Huddle's US office and started angel investing at the same time. McLoughlin made 36 angel investments including Postmates, Intercom, Pipedrive, Bugsnag and Secret Escapes until he left Huddle.
At SoftTech, he sponsored and sourced a number of deals – including OnboardIQ and LaunchDarkly.
Led by Jeff Clavier, Founder and Managing Partner, SoftTech VC invests in B2B/Saas, Marketplaces, Connected Devices and B2C startups across Silicon Valley, New York, Southern California, Boulder and Canada. To date, the firm has invested in over 170 companies since its founding in 2004 and started investing its fourth fund, the $85M SoftTech VC IV, in 2013.
In 2015, the fund has invested in 13 companies.
FinSMEs
20/01/2016