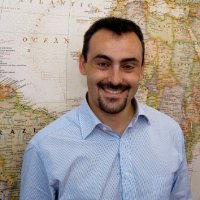 Marco Trombetti is the serial entrepreneur behind Translated, one of the world's largest online translation platforms. But his career started earlier: when at high school, he created software to recognize music tracks. Then, when at university, Marco launched a social network, WebChatWorld, to acquire traffic for the start-up of Translated, which soon became an exclusive partner of Doubleclick (now owned by Google).
In 2007, he created Memopal, a cloud-based storage platform enabling users to store and share files on a single centralized system, which lost the opportunity to become a unicorn and compete with giants like Dropbox because of lack of tech and innovation culture in Italy. Given this, he and his collaborators understood that to be successful they needed to create a real tech ecosystem.
To this end, they decided to deploy a portion of Translated's profits (approx. €1m) to create PiCampus, a Rome-based investment fund, which provides €25k to €100k in funding to post acceleration startups and free co-working space for 6 months.
Another portion of Translated is dedicated to disruptive projects in the field of translation to find technology that can bring the company to 1 billion in value within three years. And this is where MateCat, an enterprise-level, online CAT tool to make post-editing and outsourcing easy and to provide a set of features to manage and monitor translation projects, comes from.
We interviewed Marco on this project.
FinSMEs: Hi Marco, firstly, what's MateCat?
Marco: Hi Ermanno, we think that nobody is doing something meaningful to innovate the $ 37 billion translation industry. Today, there are 300,000 professional translators in the world. While daily working, they only re-use the material they produce by themeselves.  MateCat aims to disrupt this way to work by moving this material from desktop to cloud and connecting all these translators in order to collaborate and be more productive. Our idea is that a single sentence (apart confidential material) should not be translated more than once. To this end, we have crawled the web and collected 15 billion translated words, which are available for suggestion to translators in real time. In addition, we leverage AI to predict the most probable sequence of words in order to allow them to complete tasks as soon as possible.
FinSMEs: Marco, do you think the translation process will be automated in five/ten years? 
Marco: My answer is no! Since 1940, computer scientists have been saying that within a few years the translation process could have been automated. Approximately ten years ago, Franz Josef Och, the chief architect of Google Translate, says that the time to substitute human translators was near. Instead, my personal opinion is what is really happening is that the quantity of changes by translators to produce the final version of a single task is diminishing always more, inexorably.
FinSMEs: Is MateCat venture capital backed?
Marco: MateCat is not a venture backed. Still not. It is funded via an approx. €2.7m research grant from the European Union (FP7-ICT), a financial resource usually leveraged by universities which has allowed us to develop the product at better market conditions than the ones generally offered by vc firms, with lower management costs. In this context, it has been selected as one of the best 14 funded projects from the European Commission (waiting for the Lisbon final, which is to be held on October, 20-22, 2015, where the winner of the Innovation Radar Prize will be chosen).
In general terms, I think that MateCat represents a "think different" case. Young entrepreneurs often believe that success only can come via an established path, such as the vc one. With MateCat, we want to show there are alternative and innovative ways to build something important.
Is Matecat seeking further funds?
Marco: For us, MateCat is a 1 billion bet. To reach this target, we are following a clear path: an agency using the software has two options. On one hand, it can send a free link to its translator to fulfill the task leveraging MateCat. One the other hand, if a translator in its network is not available, the agency can hire an experienced translator from MateCat paying a flat fee, which allows it to fulfill the task witouth saying "no" anymore to the client in need and become more productive.
Coming back to the fundraising, to reach our 1 billion target, we must bring 10,000 agencies (out of approx. 30,000 currently operating in the global market) on board. To this end, we are now analyzing the costs to bring one of them on board in terms of marketing and sales. When we will know this metrics, we will have a clearer view of the amount we need to raise. I think, we will raise funds at the beginning in 2016.
What's your future plans?
Marco: Within 36 months, we want to disrupt the 37 billion highly-fragmented translation industry with an innovative solution capable of organizing the global linguistic information and opening the way to new translation systems and technologies that we are already developing. Given the success of MateCat, the European Commission has already funded them with additional €3m.
Apart you, who's behind MateCat?
Marco: Alessandro Cattelan, former professional translator and now Vice President of Operations at Translated, is the man who has analyzed all the processes and problems of the industry and designed the MateCat product.
FinSMEs
12/10/2015