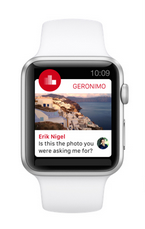 Jumpin Labs, a San Francisco, CA-based stealth startup, has launched an IOS and Watch app to sort email, raising funding from several investors.
Backers in the company include Draper Associates (Seed venture fund of DFJ Ventures), and angel investors.
Led by Erik Lukas, founder and chief executive officer, Jumpin Labs combined game mechanics with gestures for iOS to create Geronimo, an app that aims to offer a better mobile email experience allowing users to organize their emails, arrange them in the order that they desire versus the chronological order that emails normally arrive in.
iPhone features include horizontal timeline view, motion gestures, separation of robot emails from human emails, annotation of photos, rearrangement of emails. For Apple Watch, the app includes search, human-only notifications, email composition capabilities, and email volume management.
Geronimo is free for consumers to download from the Apple App Store: https://itunes.apple.com/us/app/geronimo-email-reinvented/id1014698284?mt=8. The first version is designed for Gmail users only while support for other IMAP providers will be added in future updates. Users can attach files from their phone, Dropbox, Google Drive or iCloud accounts.
At launch, the app will be available on Apple Watch as well as the iPhone 5, 5S, 6 and 6+. Jumpin Labs is working on next level versions of Geronimo for other mobile devices, platforms and wearables in similarly substantial and creative forms.
Jumpin Labs has a 12-person team. Advisors include Harper Reed, Founder of Modest and former CTO of the Obama re-election campaign; Dom Leca, Founder of Sparrow Mail, acquired by Google; Andy Vyrros, Former lead engineer on Apple iMessage and Facetime products; among others.