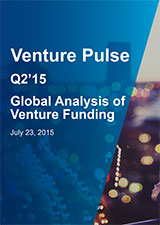 Venture capital-backed companies raised more than US$32 billion in Q2 2015 across 1,819 deals, according to Venture Pulse Q2 '15, the first in a quarterly VC report series from KPMG International and VC data company CB Insights.
This brings the total raised by VC-backed companies globally to $59.8 billion for the first half of 2015.
The quarterly report also examines the state of venture capital investment globally and regionally, including key trends and analysis.
Large deals are playing a major role in driving funding trends driven primarily by late-stage deals whose sizes are soaring worldwide. In the first two quarters of 2015, there were more than $100M+ mega-round financings, including 61 in Q2 that cumulatively raised more than $16 billion in investment.
Regionally, North America continues to lead global venture capital activity with $37.5 billion invested in the first half of the year. In Asia, $15 billion were invested into VC-backed companies in the first two quarters of 2015.
In Europe, during the first half of 2015, $6.6 billion were invested.
"Unicorns", venture capital backed companies with valuations in excess of $1 billion, more than double to 24 in Q2-2015. This included 12 new Unicorns in the United States and nine in Asia. Among them, Zenefits, Oscar Health Insurance and MarkLogic.
Globally, corporate investors continue to play a prominent role in having participated in almost 25% of total deals in the past four quarters. In Asia, corporate investors participated in 32% of financing deals to Asian VC-backed companies during Q2-2015. North America and Europe also saw meaningful contributions from corporate investors with 23% and 22% of VC-backed company financings, respectively, involving corporates.
FinSMEs
26/07/2015