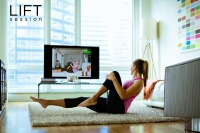 LIFT Digital, a Montreal, Canada-based live video-based training platform, closed $1M seed financing.
The round was led by angel Leonard Schlemm, as well as a group of private investors.
The company intends to use the funds to further product innovation and the develop an online fitness marketplace, which will enable clients to find fitness professionals with different specialties and services and connect and train from anywhere.
Following beta testing during the fall of 2014, the LIFT Session platform is designed for fitness training, instruction, analysis, and monitoring. It can be conducted anytime, anywhere via live video sessions through iPads and TVs. It allows fitness clubs and trainers to service clients through online sessions.
The platform has pilot programs in progress with top fitness clubs in major US and Canadian cities. Additionally, it is currently being used by clients and independent fitness professionals all over the world.
With this seed round, serial entrepreneur Raffi Tchakmakjian will be joining Chris Blyth, co-CEO and co-founder, as co-CEO.
LIFT Session is currently available on the App Store for Apple's iPad platform.
FinSMEs
26/01/2015