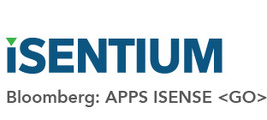 isentium, a NYC-based real time sentiment search platform for investment professionals, received an investment of undisclosed amount.
Backers included Marc Spilker, former President of Apollo Global Management, David Heller, former Global Co-Head of the Securities Division for Goldman Sachs and other veterans.
Founded in 2010 and led by Gautham Sastri, Chief Executive Officer, and Sameer Gupta, Chief Operating Officer, isentium has developed patented technology that utilizes Natural Language Processing (NLP) to provide investment professionals with a real-time, granular view of sentiment generated by social media traffic for accurate, intelligent and actionable data.
It currently supports over 8,000 U.S. stocks, indices and ETFs. Products are offered through both an APP and an API, and can also be customized based on specific customer needs.
iSENSE APP is a sentiment search tool that is available through both the Bloomberg terminal and the Web. iSENSE API provides real time and historical sentiment data to systematic traders.
FinSMEs
03/10/2014