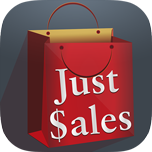 Just Sales, a Danville, CA-based mobile shopping app, raised an undisclosed amount of funding from Roger V. Smith.
Smith, the former founder and CEO of Silicon Valley Bank, also joined the board of Directors. In addition, former Twitter engineer and now CEO and Co-Founder of Mesosphere, Florian Leibert joined Just Sales as a strategic adviser.
The seed round has added several hundred thousand dollars to the existing friends and family funding, with Founder and CEO Bob Pack contributing most of the previous funding of $250,000.
The startup provides a mobile app meant for browsing specials, promotions and products on sale at users' favorite retailers before or while shopping. Currently, it has twenty-three major retailer's promotions and products listings on sale. The items are categorized store by store and by product type so shoppers can source them (young girl's casual clothes, shoes, beauty products, men's dress clothes, casual clothes for boys and men, TV's, computers, cameras and much more are currently available).
The app is available for free on iPhone from the App Store and for Android from Google Play.
FinSMEs
19/09/2014