Berlin-based digital credit marketplace for SMEs Zencap has launched in Germany today.
The company is supported by Rocket Internet.
Co-founded by Dr. Matthias Knecht and Christian Grobe, Zencap provides both small- and medium-sized companies with a financing option by acting as a bridge between entrepreneurs and private investors – with no bank as a middle entity.
Besides affordable conditions, the platform also offers for companies the opportunity to repay loans early without additional fees and for investors the opportunity to diversify their portfolio across five different risk classes and receive returns between 2.3% and 13.9%.
How It Works
Entrepreneurs can apply for a loan for € 10k/€150k, with a term of 6/60 months on www.zencap.de. The company's risk management team then checks the company's creditworthiness within a few days and proposes a non-binding offer based on the the risk class and the loan's term.
After accepting the offer, the credit project appears on the Zencap website and investors have the opportunity to select between different company profiles. An investment begins with 100€. Once a credit project is financed by investors, the credit gets paid out. Only in this case, Zencap receives an agency-fee between 1% – 4.5%, depending on the credit's term.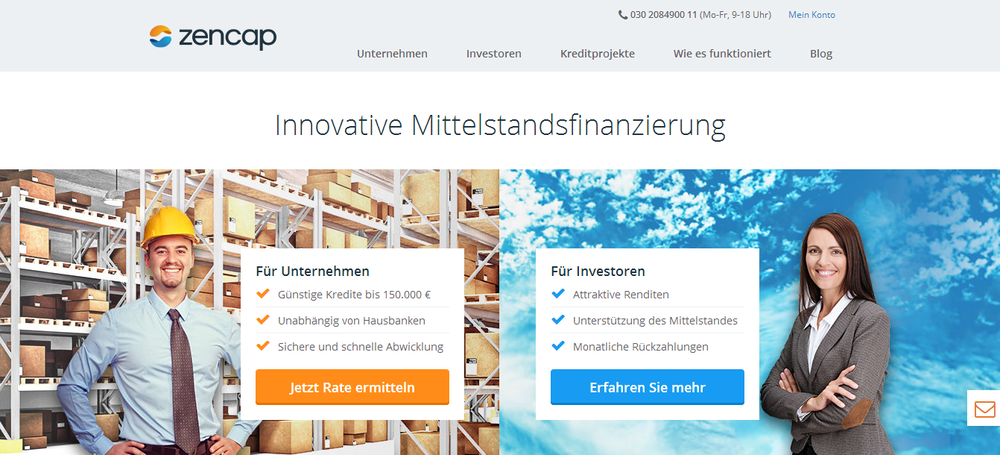 FinSMEs
31/03/2014