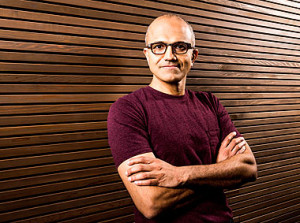 Microsoft Corp. (Nasdaq: MSFT)'s Board of Directors appointed Satya Nadella as Chief Executive Officer.
Nadella, who was born in Hyderabad, India, in 1967 and who joined Microsoft in 1992, previously was the Executive Vice President of Cloud and Enterprise group.
Commenting on the announcement, he said: "The opportunity ahead for Microsoft is vast, but to seize it, we must focus clearly, move faster and continue to transform. A big part of my job is to accelerate our ability to bring innovative products to our customers more quickly".
Nadella succeded to Steve Ballmer, who announced on Aug. 23, 2013 that he would retire once a successor was named.
In addition, Bill Gates, previously Chairman of the Board of Directors, will assume a new role on the Board as Founder and Technology Advisor, and will devote more time to the company, supporting Nadella in shaping technology and product direction. John Thompson, lead independent director for the Board of Directors, will assume the role of Chairman of the Board of Directors and remain an independent director on the Board.
FinSMEs
04/02/2014