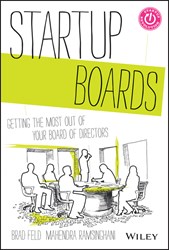 A new book explores the essentials to understanding the dynamics of a startup's Board of Directors.
Boulder, Colorado-based Brad Feld, an entrepreneur turned venture capitalist and a blogger, and Mahendra Ramsinghani, a seed investor, have written "Startup Boards: Getting the Most Out of Your Board of Directors" (WILEY; January 2014; Hardcover & e-book; $29.95; ISBN: 978-1-118-44366-8), which tries to clarify board dynamics and the inner workings of a boardroom for today's entrepreneur.
In the book, authors share their experiences by exploring the importance of having the right board members on a team and how to manage them effectively. They share insights on various aspects of the board, including how they can support an entrepreneur, help them understand a startup's milestones and get to them faster, and hold the team accountable.
Startup Boards explores how to construct the board, lead and manage it, and deal with conflicts when they arise. It also details the process of choosing board members, including interviewing people, checking references and highlights the importance of mixing social time with business time during meetings.
FinSMEs
16/01/2014