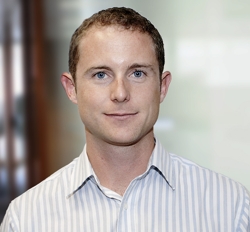 Rob Moffat is a Principal at Balderton Capital, where is involved in finding and evaluating new investments and also works with portfolio companies. Rob is on the board of Wooga, Housetrip, Touchlocal, Rentify, Qubit and Archify. I had the opportunity to meet him at TechCrunch Italy in Rome in September 2013, where he was a speaker. He later accepted to answer my questions.
FinSMEs: Hi Rob, what's your background? Rob: I hold an MBA from INSEAD, and an MA in Mathematics. I spent five years at Bain & Company, the management consultancy. Then I went to Google where I worked as a Manager strategy & operations team across Europe. In 2009, I left Google to join Balderton.
FinSMEs: What's your investment strategy?
Rob: Simple. We are looking for great entrepreneurs with disruptive ideas whose business can scale up something like half billion dollars within ten years. It's not about quick sales, it's not about trying to find a buyer very quickly. It's about building real profitable businesses, looking to grow in size and to be ready for an IPO or to be bought by a large player.
FinSMEs: Which sector do you invest in?
Rob: Broadly tech, software. From consumer to B2B, ecommerce, mobile, and consumer games.
FinSMEs: What do you like to see in teams?
Rob: Speed, speed of iteration. Speed of getting things done. Do a test live in three days, in a week, and then at the end of it decide if it works or not, stopi it of push it much harder, facing fast cycle times and learning from the market to improve the product or the service. Speed of execution, speed of iteration, is very important in today's world.
FinSMEs: I see a lot of teams too focused on developing with difficulties when they have to approach the market. What do you think about it?
Rob: It's quite common in all places, in the US and across Europe as well. In the current environment it cannot be an effective strategy because the world is moving so fast and if you go into your bubble to spend three years developing something and you come out at the end expecting the world saying "well, It's amazing", the world is often moved on. This approach still makes sense for academic spinoffs or developers of solutions that address hard-to-solve problems, which need funds for R&D and commercialization, and that's why VCs may come in.
FinSMEs: Funding and crowdfunding…can do they live together?
Rob: Yes, they can. I think we have two distint segments: the KickStarter segment is about pre-paying products and services. It leverages a large community of passion users who commit small amounts of money as a donation rather an investment; and then we have equity crowdfunding platforms, with AngelList being the biggest player globally, with some other platforms operating at a country level. and they help companies get funded. With regards to investors, I think the choice between equity funding and crowdfunding depends on the approach they follow, if they either prefer being involved in a company or following angel investors and vcs, if they are confident in the companies smart people pick. It basically depends on them.
FinSMEs: I know other vcs use AngelList as a tool to discover and connect with startups. Do you use it? Is it useful?
Rob: Yes, I do. AngelList is a great platform.
FinSMEs: Generally speaking, given your experience, which (currently missing) tool can be helpful?
Rob: In general, I think that a tool to have a comparative view of two of more startups operating in the same sector can help in the decision-making process. 
FinSMEs
18/11/2013
Rob on the Web:
Balderton: http://www.balderton.com/team/rob-moffat
CrunchBase: http://www.crunchbase.com/person/robert-moffat
AngelList: https://angel.co/robmoff
Twitter: https://twitter.com/robmoff
LinkedIn: http://www.linkedin.com/in/robmoff
Balderton Capital
Founded in 2000 by Benchmark Capital as Benchmark Europe, Balderton Capital became an independent firm in 2007. It manages approximately US$1.9bn and invests in European online/tech companies with $B potential requiring early stage financing of $100k to $10m. It has made 110 investments to date. Investment areas include Advertising Platforms, Analytics, B2B, Business Services, Consumers, Design, E-Commerce, Education, Enterprise Software, Enterprises, Entertainment, Events, Fashion, Finance, Fitness, Information Services, Information Technology, Local, Loyalty Programs, Media, Mobile Advertising, Online Travel, Parenting, Platforms, Recruiting, Retail, Reviews and Recommendations, SaaS, Small and Medium Businesses, Social Commerce, Social Games, Social Media, Social Media Platforms, Travel. The firm is in the process of raising its new fund, which reportedly has a $400m target (read here). Exits include YOOX Group, LOVEFiLM, Betfair, Bebo and MySQL.