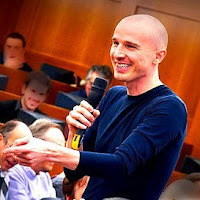 An Internet pioneer, a social media guru, a (successful) tech entrepreneur, an (impressive) public speaker, a broadcaster. Dear readers, this is Marco Montemagno. He now lives in the UK and has just launched SuperSummit, an online network for experts to organize and stream free live events. I had the opportunity to speak with him about this new adventure.
FinSMEs: How did you come up with the idea of SuperSummit?
Marco: The inspiration was the Digital Domination Summit, which took place in June 2013 without a business model. I Like connecting people, you know. And I had the opportunity and the pleasure to interview such work-class experts as Guy Kawasaky, Seth Godin, Gary Vaynerchuk, Tony Robbins and others. During the event, we experienced the video format and worked to understand what could work and what couldn't work. This now represents the background knowlegde to spend on SuperSummit, which can also leverage a community of 50,000 people.
FinSMEs: Tell me something about SuperSummit!
Marco: We have chosen a particular approach, which is based on free, live online events. I had already founded blogosfere, a network of bloggers where experts were selected to open a blog. In SuperSummit, instead of running a blog, experts organize an online event, once a year. In my opionion, it could be a winning model. But you know, the market will decide, then!
FinSMEs: There is a lot of competition! Isn't it?
Marco: Yes. maybe, there are several services, which provide experts with a lot of tools to set up a course. But promotion is a hell. It's like uploading a video on YouTube…but then, who watches it? In SuperSummit, we have a different approach. You are part of the platform, you can organize your "one shot" event, which is already more "advertisable" than a course, and work to allow other experts to join it.
FinSMEs: And which is the advantage for users?
Marco: Simple. They don't have to follow 10/15/20 hours of lessons. On SuperSummit, they can listen to 10-15 experts of – e.g. – Poker on line, who unveil their secrets and tricks, and give advises in real time. For free, users can listen to different experts, having diverse opinions available as well. Finally, by selecting experts (others don't do it), there is a guarantee to have only high level experts on the platform. There is no low-quality risk.
What's your business model?
Marco: Live videos are free. Users need to buy a ticket to access to recorded videos and related materials. In addition, companies can buy passes.
FinSMEs: What's your target with SuperSummit?
Marco: If you had to build Facebook-like startup, you would need a big vc injecting $200m. But maybe not everybody is called to build Facebook. I don't want to create a 1bn user startup: that's not my model. But I can live happily by building an international startup, making good money without 1bn users in a mass market.
FinSMEs: So, are you seeking funds?
Marco: No, we aren't. We prefer starting without an external support. I'm 41. I already had this experience (raising funds) with blogosfere, Augmendy, others. Entrepreneurs, especially young ones, celebrate the time in which external backers invest in their startups. But it can also represent a painful moment: They are losing some control of the business, in some ways you have to refund investors. In general, you can have both advantages and disadvantages.
With SuperSummit, we want to build value on the long term. It means that we will consider proposals and partnerships based on our needs, time by time. 
FinSMEs: What's the initial focus of SuperSummit in terms of subjects?
Marco: The first event, which will take place in November 2013 (from 4th to 29th), will be on Social Media, SEO & Web Marketing in Italy (read here). In general, we aim to start with technology, business, fashion, lifestyle, customer care, how to create events, poker online, etc. But subjects will strongly depend on people coming forward. And we have already had offers from experts in areas I couldn't imagine at the beginning.
FinSMEs: Italy. What do you think about our Startup Scene?
Marco: we need less novel writing and more revenues!
FinSMEs
12/10/2013