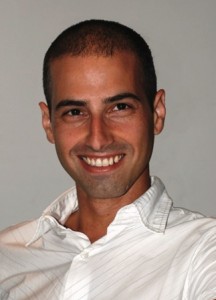 I knew SeatID some weeks ago, when I noticed they had raised funding from Tel Aviv-based Wadi Ventures (and other undisclosed backers). I contacted Co-Founder and CEO Eran Savir, who accepted to answer my questions about himself, the Israeli company, their products and future plans.
FinSMEs: Hello Eran, Can you tell me a little bit more about you?
Eran: I'm the Co-Founder and CEO at SeatID, a social seating and booking platform that helps eCommerce sites both in travel and ticketing improve conversion by showing shoppers who else bought this and who is sitting where. I'm is also a Co-founder and Board Member at Kampyle, a Software-as-a-Service Feedback Analytics solution serving over 65,000 customers worldwide. I am the Founder of 3DPrintingModel, an online marketplace for 3D printing models and design plans, and an Advisory Board Member at Folloyu, a platform for continues browsing across devices. I am also a Mentor at the Founder Institute, Startup Bootcamp, and StarTau. I previously worked at SAP as a Senior Product Manager. I hold a LL.B, Bachelor's degree in law.
FinSMEs: Let's speak about SeatID. What is it?
Eran: SeatID is a social seating and booking platform that helps eCommerce sites both in travel and ticketing improve conversion by showing shoppers who else bought this and is sitting where. SeatID adds social widgets to existing online ticketing and booking processes and pulls in profile information from both Facebook and LinkedIn to let users know which of their friends are on which flight, staying at which hotel, attending which concert, etc. This social proofing drives higher engagement and conversion.
SeatID has won awards and recognition from analysts and reporters and getting a lot of attention and positive feedback from its customers and prospects.
FinSMEs: How does it work?
Eran: SeatID customers are hotels, airlines, travel websites stadiums and train operators. They add a SeatID widget to their existing online ticketing and booking processes allowing users to login using a social network profile and see for example: "Who of my friends have ever been to this hotel? Or who of my friends will be at this hotel while I'll be there?", "Who of my friends will be on the flight / train / game / theater, etc." and "Who of my friends have made a reservation for this packaged deal?".
SeatID is a Software as a Service (SaaS) cloud based solution.
SeatID does not require any integration with the website's back-end systems. Addition of SeatID to the website takes only a few minutes, requires copying and pasting few snippets of code and is essentially the same as adding widgets to the website.
FinSMEs: What's your business model?
Eran: SeatID is currently offered for free for at least one year. In the future we'll turn this into a freemium subscription model for the businesses that use SeatID on their website. We'll let all customers know in advance before we'll start charging.
FinSMEs: SeatID. Who are your team members?
Eran: My other co-founders are: David Rachamim (co-founder and CTO) and Sani Sanilevich (co-founder). In addition we have Kevin Fliess, GM at Room77 on our advisory board.
FinSMEs: Development? Marketing? Sales? International expansion? Where is your focus right now?
Eran: We're focused on all of the above. We recently expanded our platform to support five different industries: Travel (airlines and travel websites), Hotels, Online ticket sellers, Stadiums and Trans. We're now starting to get customers from all these industries. Some latest customers include: a medium sized travel and packaging website from Indonesia: valadoo.com, a hotel from Bangkok:  royalivory.com  and a vacation rental villa in Greece: amarivilla.co.uk.
FinSMEs:…future plans?
Eran: Completely change the online ticketing and booking experience for millions of users. Socializing is a key element in the decision-making process. A rapidly increasing number of people share and socialize online as part of a cognitive process to help them resolve issues. Why not giving all this social information to users where and when they need it? SeatID is the only vendor that offers an off-the-shelf product that can socialize the online purchase processes.
FinSMEs
03/06/2013